This is an eco-friendly brand who are doing things a little differently. We're going to take a closer look, and see if the Presto Coffee discount code we have is worth using. 
What Is Presto Coffee?
Presto Coffee is making a conscious effort to be sustainable, and get world-class coffee onto breakfast tables around the UK. 
Their coffee is always shipped and never flown, reducing the carbon footprint of those coffee beans. They seem to make it their mission to prevent people from running out of coffee, which is the premise of a good subscription box. 
It is their smart subscription option that makes life easier. You have to trust the experts to pick blends for you to enjoy after filling out a few questions to ensure you are getting the right grind and blend that matches your taste.

They have an impressive range that includes coffee beans, coffee bags, ground coffee, and instant coffee, and there is a subscription option for all of them.
Presto Coffee is also a member of 1% for the planet, which is why they promise to donate 1% of their profits to environmental charities. 
Their coffee comes in brown paper packaging that has a traditional look, as well as a bit of useful information about the blend without going over the top. Oh, and as you may suspect, the packaging is 100% recyclable.
So far, there is a lot to like.
More coffee brands similar to Presto Coffee
How Does A Presto Coffee Subscription Work?
A subscription starts with a handful of questions to make sure they are matching the grind and blend to your preference. You also get the option of Presto capsules. These are compatible with most Nespresso machines and mean that no one has to miss out on a well-stocked supply of coffee. 
Once this is done, you select how frequently you wish to receive your coffee. This could be weekly, fortnightly, or monthly. 
Then, it is down to check out before you await your delivery.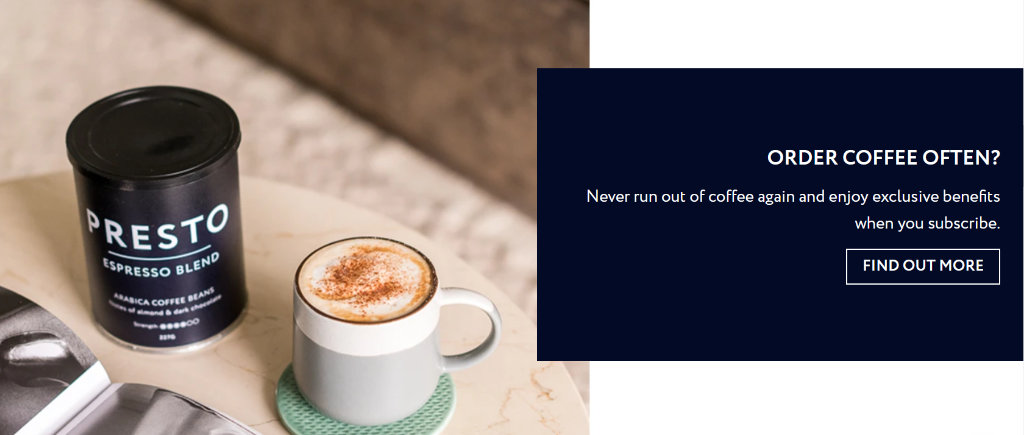 They also have coffee bags available as a subscription. These are becoming more common and are convenient in the morning if you don't have a fancy machine but what great coffee.
We should also note that their decaf is decaffeinated via the mountain water process, which is always good to know. 
What's Good About It?
The thought of running out of coffee will rightly scare some people. This is a way of getting award-winning coffee delivered directly for a recurring fee. Their coffee is already priced very competitively with some bags being as little as £4.99 for their house blend. However, subscribers enjoy a 15% discount.
The convenience is key, but the quality of the coffee is also impressive. Their Brazilian blend is smooth and creamy, with flavours of indulgent chocolate and caramel. 

Also, their ethical approach makes Presto Coffee a brand you want to use. Also, the coffee is fresh. Not every brand provides a "roasted on" date. A lot of the time, you will be getting coffee that was only roasted a matter of weeks ago. Everyone wants fresh coffee, but the mass-produced brands often leave their coffee in storage for months so this is great to see. 
Another plus point is the rainforest alliance badge proudly displayed on the bag.
What's Bad About It?
We couldn't find any fault with the service, quality of the coffee. If we were being picky, then maybe some people would like more variety but having too much choice can be detrimental sometimes. 
Can You Cancel Presto Coffee Subscription Anytime?
Yes, you can. There is also the option to pause or skip a month but you are never tied into a contract. 
They make it easy to cancel online so there is no hard sell coming your way when you have a buildup of coffee or just want to take a break.
Is The Presto Coffee Discount Code Worth Using?
Although they are reasonably priced, and you get 15% off coffee as part of a coffee subscription box, you can also get the benefit of more money off thanks to the Presto Coffee discount code.
We always keep this section updated so be sure to check in here before making your first purchase.
Similar deals to Presto Coffee