But, the fun, taste, and chance to try something unique and different every month add to the appeal. Let's see just how they are mixing things up in the cocktail scene, and see if the Kocktail discount code we have is worth using. 
What Is Kocktail?
What do you want when ordering cocktails to your door? Alcohol? yes. An experience? for sure, but we have discovered that a Kocktail subscription goes beyond that. They include the garnishes, carefully selected to complement the drinks included, and everything is made for sharing.
This makes it a great idea for hosting a party, or a date night in. The story behind the serve cards tells you everything you need to know about each drink. Plus, the only thing you are going to need is ice and something to serve the drinks in.
We like that they set their standards high, using fine spirits and fresh ingredients rather than concentrating on saving money with cheap booze.
There's a lot to like upon first impressions. Everything from the box to the design on the bottles ooze cool, so let's see how it all works.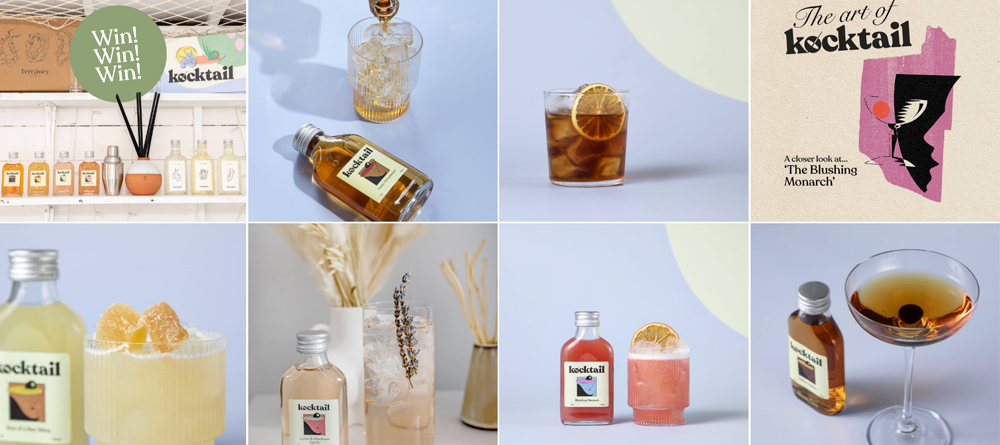 More alcohol brands similar to Kocktail
What Does A Kocktail Subscription Involve?
It all starts with style. Choose yours by telling the experts your preferences so they can comprise a box of four cocktails that they think you'll love. 
Every month they curate 8 of their favourites, 4 light and 4 dark. These are then available separately or as a mix as part of the subscription. The differences are as follows:
Light - Think more fruity flavours like the summer spritz collection that includes lychee and elderflower, or Earl Grey flavours. A little soda and ice are all that is needed to top it off.
Dark - Tends to mean bittersweet flavour combos, and spirit led drinks like a cherry cola old fashioned. 
Mixed - Includes a combination of the above. Two from each so you get the best of both worlds. 
Select the subscription option to save a load on the regular one off price.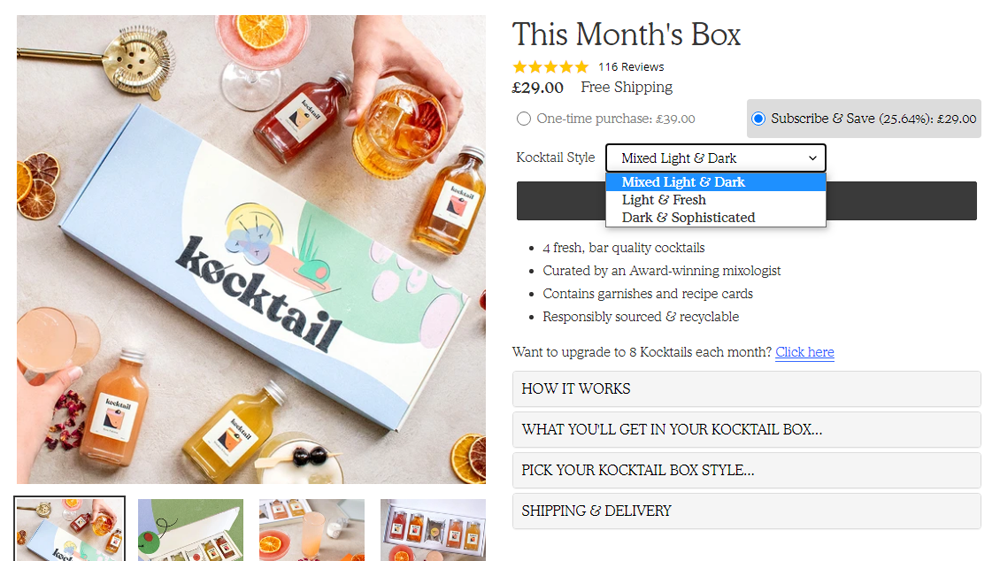 How Much Is Kocktail Delivery?
With the basket filled, only the delivery is left. Kocktail sends their packages out via Royal Mail, and delivery is free. 
There is also the option to select next day delivery for £3.95.
What Do You Get In A Kocktail Subscription Box?
Every month you are sent 4 x 100ml cocktails. They are mixed to a high standard, and each bottle is a generous helping for one or enough for two people to sample and enjoy.
A Kocktail subscription includes more than four bottles though. There are also garnishes included in every box to top off the special feel as well as information on the drinks so you know what it is that makes them so different.
How Much Does It Cost?
A Kocktail subscription starts at £29.95 for 4 bottles, and £49.95 for 8. This is billed every 30 days and there aren't any hidden extras. 
It is possible to purchase a one off box, but this costs significantly more. 
What's Good About It?
This doesn't have the hallmarks of an ordinary cocktail subscription, Kocktail focuses on fresh ingredients, that brings out more of the flavour.
Long shelf life isn't always a good thing, especially when it comes to quality but a lot of customers are often talking about these cocktails being different from the rest. 
It might not seem like a big deal, but cancellation is also simple and can be done online. Some brands make this a bit tricky so it is good to see a company that shifts the focus onto the customer's needs. 
It is also possible to change how often you have deliveries, but upon signing up, you are billed every 30 days unless you make amendments. 
Is The Kocktail Discount Code Worth Using?
Any cocktail enthusiast or someone looking to get some fun out of a drinks subscription box will put it to good use. We think the service as a whole is up to scratch, but the cocktails are also made to a high standard. 
Because of this, we have no issue recommending the following Koktail promo code to get more discounts for a great night in. We always keep this section up to date, so be sure to check in with us before committing. 
Similar deals to Kocktail