Before you hand the reign of the kitchen over to the kids, take a look at the following review. That way, you can see if the Little Cooks Co discount code we have is worth using.
Who Are Little Cooks Co?
To spread a little joy, Little Cooks Co makes it their mission to send boxes of fun, with a focus on real food. A lot of their ingredients are organic, so there is more nutrition in their little boxes.
This is all part of their focus on happiness, spending time in a loving environment is important, which is why they made their subscription boxes.
By making the boxes inclusive, families can spend more time together, even on those days when things are tough. 

Every box is different. These are snack recipe kits for kids without refined sugar. All the ingredients are measured out so there is no waste, and it also makes it easier for young ones. Snacks can be anything from a carrot cake recipe to cheesy cauliflower bites.
When founder Helen Burgess became a Nutritionist, she realised that a lot of parents were asking her how to get better food into their children's diets. This was the seed that grew into Little Cooks Co.
More baking brands similar to LittleCooksCo
How Does A Little Cooks Co Subscription Work?
It all starts with picking the length of subscription. There are enough options to keep most budgets happy with one, three, six, and twelve months available. 
The longer the subscription, the greater the savings and it can be as little as £8.33 a box when opting for the 12 months. A Little Cooks Co subscription can be cancelled at any time and it is possible to skip a month.
Then, the boxes are sent out via Royal Mail. Included is a kit of healthy ingredients to make a nutritious snack. All the dry ingredients are included and they are organic and full of nutrition. 
There are also activities to keep kids off screens and encourage hours of fun. These can be small activities that involve stickers or planting seeds to make edible flowers, and recipe cards for other snacks to make with the family.
All you need are a couple of fresh ingredients that are usual;ly in the fridge anyway and you are good to go!
There is also a glossy recipe card that can be kept in a folder for future reference.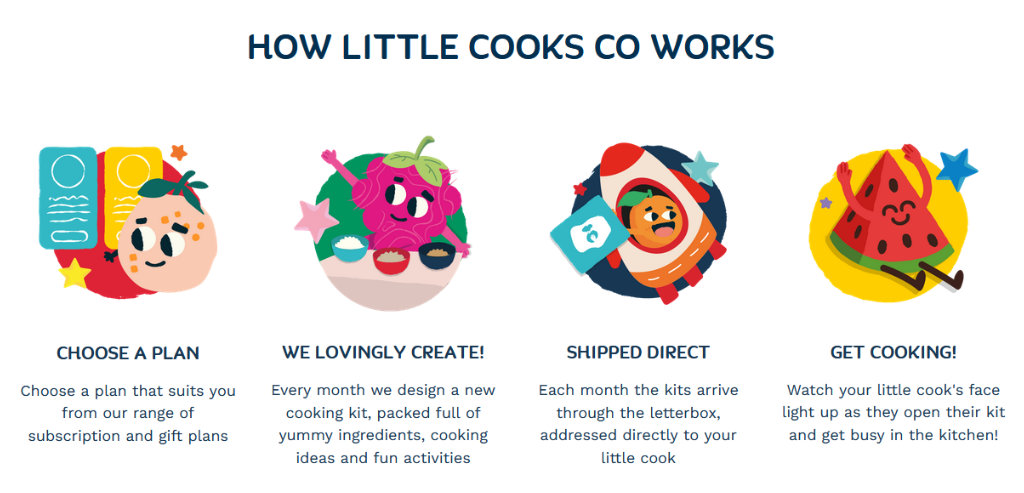 What's Good About It?
Every kid loves getting hands on, and sharing the time together is always a good reason to bake. These kits aren't just dry mixtures designed to provide a sugar hit, they are healthy and made from organic ingredients so you get a sense that the snacks are going to benefit them.
A Little Cooks Co subscription can help a child build their confidence. The pre-weighed ingredients don't slow them down and because each box is addressed to them, it is the sort of post that they can look forward to. 
It also teaches kids to make healthy food choices. When the world is trying to push every sugary snack under the sun, these boxes are a welcomed break.
The price is also good value. There is something about a baking subscription box that gets you making something that you would otherwise never make.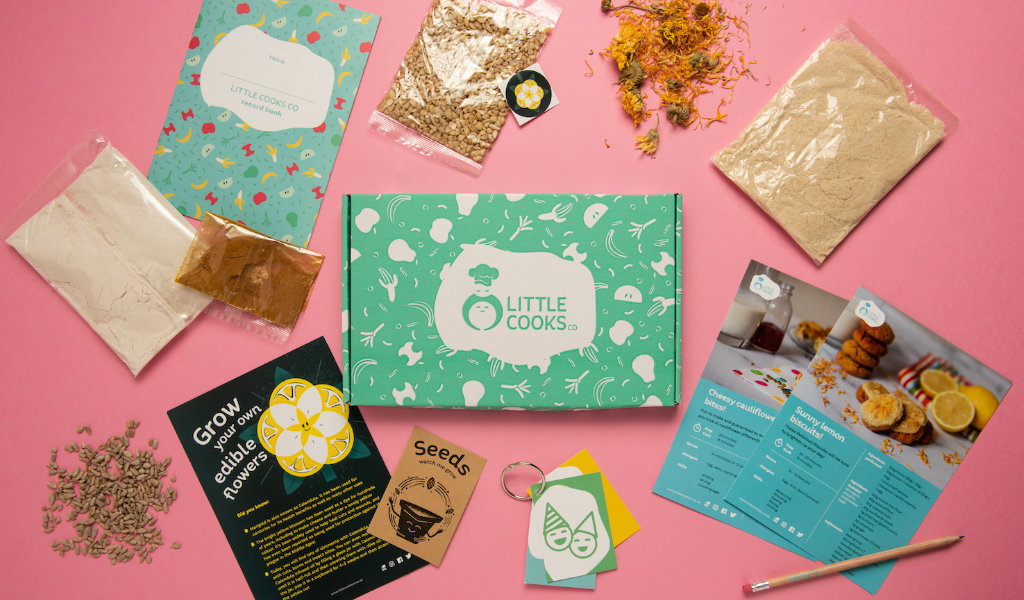 What's Bad ABout It?
Nothing in particular. Having to source the fresh ingredients could mean a trip to the shop every now and again, but most of the ingredients such as milk and eggs are easy to source.
Also, the price is very much in keeping with the rest of the market so you won't feel short changed.
How Much Does It Cost?
A Little Cooks Co subscription costs £12.99 per month if you wish to pay month by month, but the 3 month subscription works out at £12.00 a box, the six month option £10.00, and the twelve month subscription is £8.33 a box.
They are small enough to fit through the letterbox so you don't need to be in to receive it.
Is the Little Cooks Co Discount Code Worth Using?
We think so. It seems to be a wholesome subscription that kids love to get involved with. We always keep the most recent Little Cooks Co discount code up to date so be sure to check here before clicking subscribe.
Similar deals to LittleCooksCo
BAKEDIN
Get your first box for £2.99 delivered