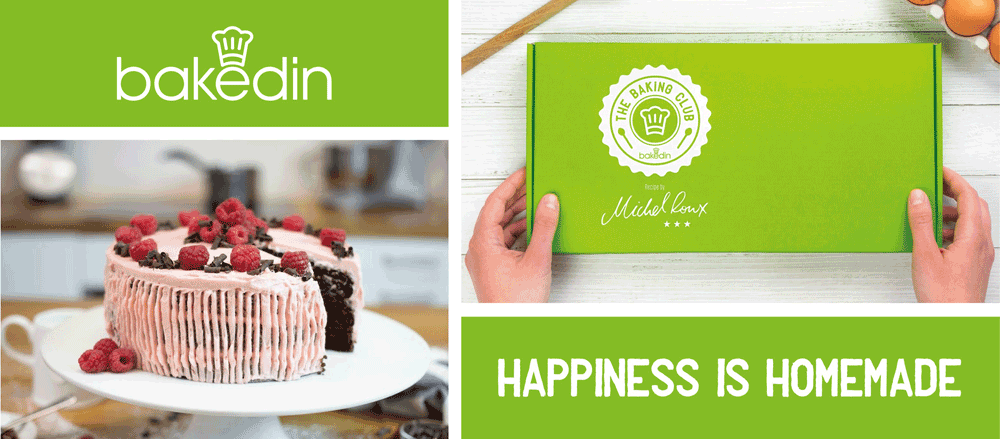 What Is Bakedin?
Bakedin kits are a simple way of entering your very own baking club. Every month you receive everything needed to make a sweet treat or bread. That's right, they offer two different subscriptions, one for their baking club which involves cookies, muffins, cakes, cupcakes, pastry, and biscuits. The other is for their bread baking club and can mean customers get to bake loaves, flatbread, buns, and croissants.
Each kit is posted through the letterbox, and easy to make, yet impressive. 
More baking brands similar to Bakedin
What Are The Bakedin Subscription Options?
Their subscriptions include a month by month, 3, 6, and 12 option. Apart from the one month, these are also available for gift subscriptions.

Is A Bakedin Baking Club Worth It?
One of the main reasons this baking subscription box is so popular is the ease of being able to make a sweet delight from scratch. Everything included is measured to perfection so there is no wastage. 
It is also known for being excellent value, with baking kits often available at a reasonable price on the website, as well as the subscription. This is one of the best subscription boxes for children so it is a great option for making some memories with the kids. Plus, there is a sweet reward at the end for all to enjoy!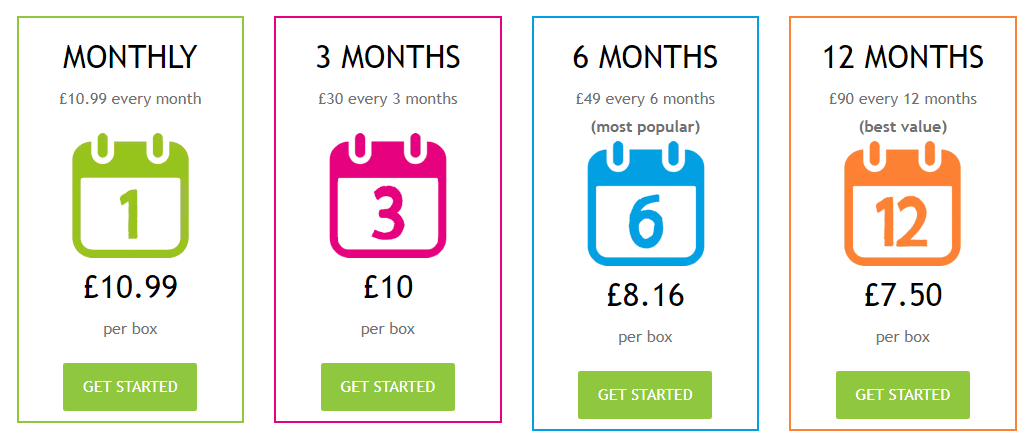 Also, the price is justified when considering some of the ingredients. Sure, the likes of flour and yeast might not make it seem worth it, but when you consider the fact that there are more expensive ingredients such as nuts and specialist flour, it does make it worthwhile. 
We like that the ingredients are pre-measured as it means there is less room for error - no one likes a cake that doesn't rise or has a soggy texture because of the wrong measurements. 
How Much Is Bakedin Delivery?
When taking out the prepaid 12-month subscription, Bakedin offers free delivery. It also offers free delivery on some of the other boxes and purchases over £35, although adding any extras from their shop page could result in a £2.99 delivery charge.
When Does Bakedin Deliver?
As long as an order has been placed before the 1st of the month, delivery is sent on the 15th of every month. This should reach any UK address within a couple of working days.
Do You Get All Ingredients?
The short answer is no. But, this is because the fresh ingredients do not travel so well. This means you will usually just need the likes of milk, eggs, butter etc. However, you do get all the dry ingredients in every Bakedin kit, measured exactly as required to reduce waste and make baking as simple as possible.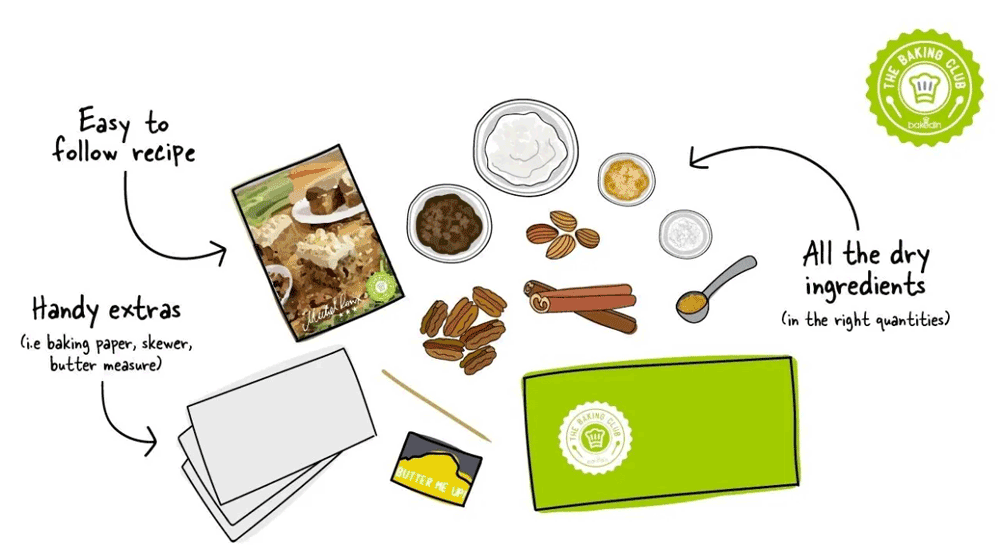 What Else Do You Get?
With a Bakedin subscription box, you also get some handy extras. This can be in the form of skewers, a baking paper that is pre-cut, a recipe booklet, and whatever else is necessary for the recipe of the month.
Are There Any Bakedin Discount Codes?
Yes, there are. We always keep this section up to date so be sure to check-in for the latest Bakedin discount code. They often have something tempting to offer (and we're not talking about those cakes!) and we ensure the latest deal can be found here.
What Is Their Variety Like?
For a cake subscription, there are plenty of different recipes, and you never know what you are going to get. This makes it an exciting moment when it arrives as you don't know if you are getting the recipe and ingredients for a raspberry ripple cake, chocolate cheesecake brownies, lemon drizzle loaf, and one of the many other options. 
Is There Anything Wrong With Bakedin?
Just small niggles, for example, there is no vegan option at the moment. There are also no dairy-free options although they are working on a gluten-free version. 
Also, having to make sure you buy the fresh ingredients is a little inconvenient, but also completely understandable given the nature of the subscription box. 
Conclusion
To wrap things up, a Bakedin subscription box is a good value, and the convenience factor is something we can get on board with. There is such a vast range of recipes that there is no chance of getting bored. If you do, it is free to cancel at any time.
Similar deals to Bakedin