But what can your eager little ones expect to find in every box? And is it worth using the Little Bakers Box discount code we have found?
Who Are Little Bakers Box?
This is the sort of kids subscription box that will have the young ones asking if they can open it up straight away. They say that around ? of parents aren't sure how to bake, and this is a solution to make it easier, and fun for all.
The people behind the boxes must be passionate about getting families baking and even set up a successful crowdfunding page to help raise funds for marketing when the company was in its infancy.
Every month they send the dry ingredients for a tasty treat packed with a step by step recipe card and activity. The ingredients are pre-weighed so it is a simple process, making the boxes appealing to toddlers and above.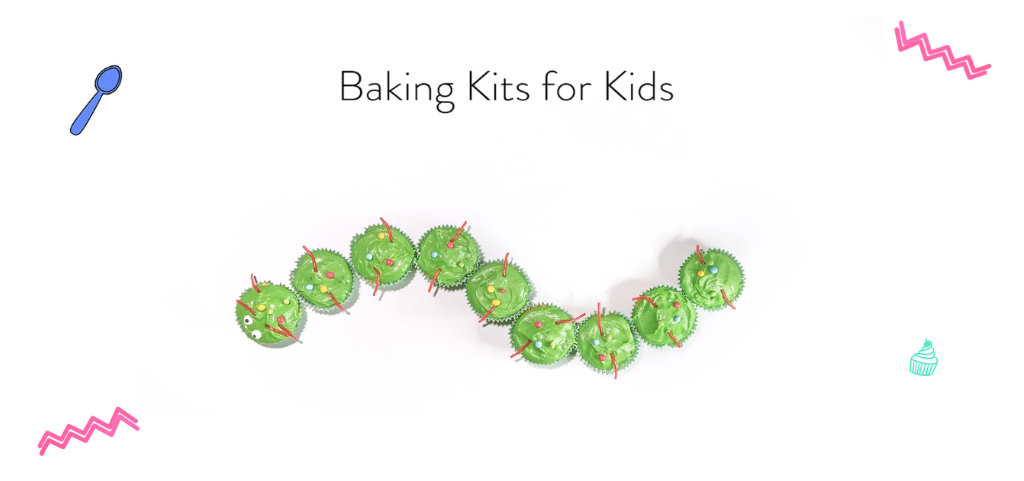 The extra decorations are a nice addition, and there could be anything from monster cupcakes, to cake pops, brownies, and other themed delights. 
There is a cute shop with everything from a Little Bakers apron to different bakers kits that can be purchased as a one off.
More baking brands similar to Little Bakers
How Does A Little Bakers Box Subscription Work?
The process of making cakes should be simple, and thankfully their subscription service is as well. It all starts with a selection of dietary options. There is a standard box, dairy free box, gluten free box, and a vegetarian box to choose from.
Then, it is all about which length of subscription you would like. There are monthly, 6 months, and 12 months which works out to be the most affordable option.
Although boxes are dispatched around the 15th of every month, there is an "I Can't-Wait" option for new subscribers. Little Bakers Club sends these out immediately.
THey don't take long to arrive, and when they do the boxes have everything needed for little hands to get a bit messy, and feel like they have achieved something.
https://subscription-boxes.s3-eu-west-2.amazonaws.com/upload/littlebakersclub_3.jpg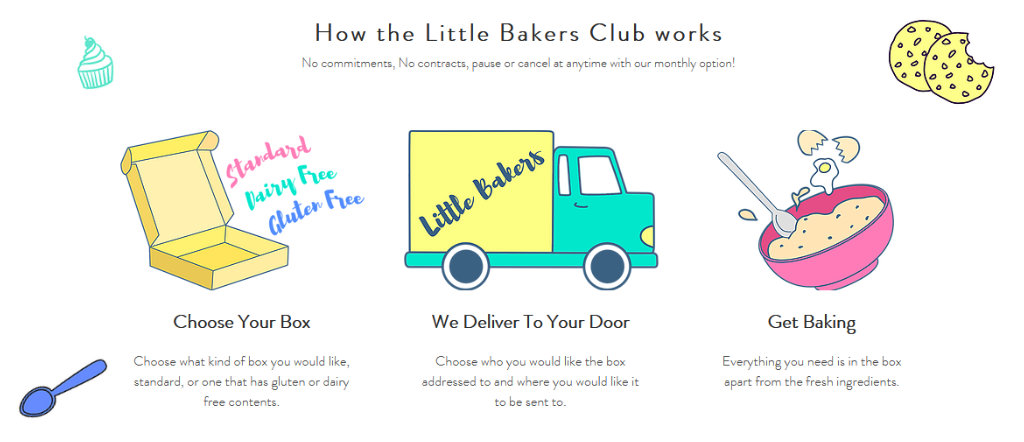 How Much Is Delivery?
Little Bakers Box charge £2 delivery for each of their subscriptions. 
Otherwise, they are sent out around the 15th and can take 3-5 days to arrive. Some products in the shop are sent with free shipping. 
How Much Is Little Bakers Box?
The monthly subscription costs £10 and can be cancelled or paused at any time. This is made slightly cheaper with a six-month subscription, costing £9.50.
The most affordable Little Bakers Box subscription is the 12-month plan, as it works out at £9. In terms of how the competition is pricing their baking subscription boxes, this is pretty reasonable and when the boxes arrive, there is nothing that makes you feel as though you're being short changed.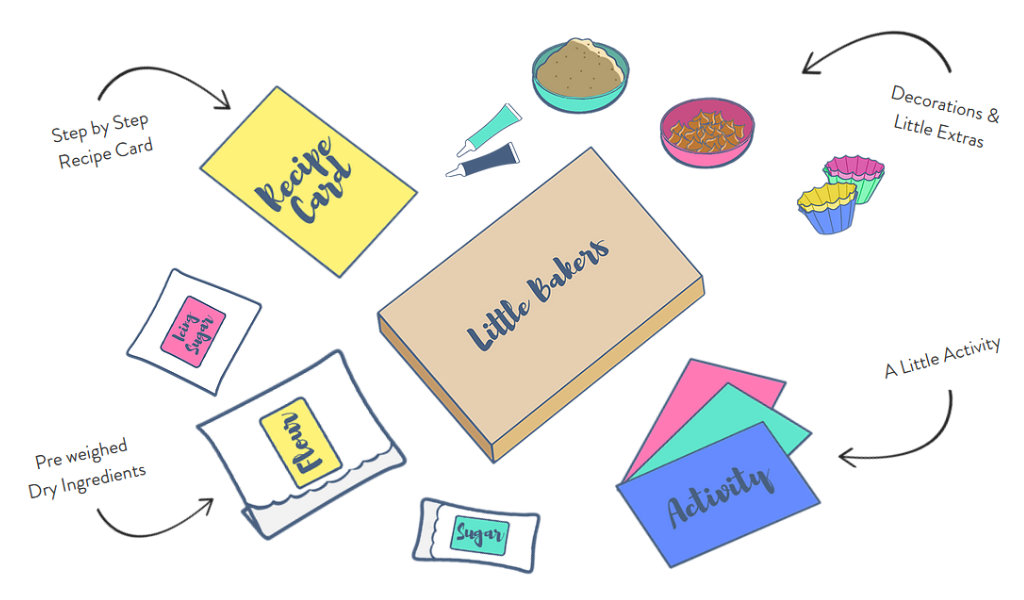 What's Good About It?
One look at their Instagram and it is easy to see that these are delicious treats. Getting hands on and making the recipe is going to provide a sense of achievement, plus the time together is precious.
The taste is made all the better by the use of fresh ingredients. There is no pre-made, mass produced mix, just genuine quality from a brand that seems passionate about their cakes. 
The ease is a big plus point. Not every family has the time to source multiple ingredients to bake, and it can cost a lot to get everything you need for certain recipes. 
What Does It Teach Kids?
The step by step cards are great for young readers growing in confidence, but even if your child isn't there yet, there are plenty of useful skills to be learned through baking with Little Bakers Club.
Some of the useful ways these kits can help include the following:
Fine motor skills and coordination
Hygiene and safety
Literacy
Maths
Emotional development
Kids even love the way each box is addressed to them, making this an exciting box for kids.
Is The Little Bakers Box Discount Code Worth Using?
Absolutely. This is a great way of getting hands on with your children, and a promo code only makes it even sweeter. We always keep this section up to date so before committing, be sure to check with us.
The latest Little Bakers Club Promo Code Is As Follows:
Similar deals to Little Bakers
BAKEDIN
Get your first box for £2.99 delivered