Who Are Hoppily?
Hoppily is all about the little guy. They find quality craft breweries and help promote their exciting tipples. For the customer, this means the beer is something to get excited about, as they do.
Although they look for beer from far and wide, there is a focus on local beer from the UK market. The core values on their website indicate what sort of company they are, and the signs are good in terms of putting the customer first and price matching. 
Hoppily beer is available via their well-stocked bottle shop, as well as their craft beer club. This is what we're here to take a look at.

More beer brands similar to Hoppily
How Does A Hoppily Subscription Work?
They call it the Hoppily craft beer club, with the tagline "come home to craft beer." Sounds like a plan, and it starts with the customer selecting the type of box they want. There are a few options:
8 x Craft Beer Box
10 x Craft Beer Box
Hoptacular Beer Box
The 8 and 10 craft beer boxes are full of rare and exclusive beers, with those smaller cans that are typical for IPAs and the likes. They are often small-batch beers and all from independent breweries such as Hackney Brewery, Portobello Brewing Company, and Signature Brew among others.
The Hoptacular Beer Box is full of larger beers of 440ml and is full of 10 premium beers. These are stronger beverages, with bolder flavours. Like the 8 and 10 beer option, every month is a different selection and some of the breweries included in this option are Pentrich Brew Co., Verdant, Hammerton, and more.
These are one-month rolling subscriptions and it is also possible to add an artisan snack for £2. 
Once you have chosen your box, it is time to fill out your details, and await that first delivery of fresh craft beer. The next billing will be taken on the 7th from the next month and subsequent months.
If buying a gift box, this does not renew and is taken as a one-off payment. 
Anyone who likes tasting notes included in their box may be disappointed, but the no-frills approach works for most people who just want quality beer.
How Much Is It?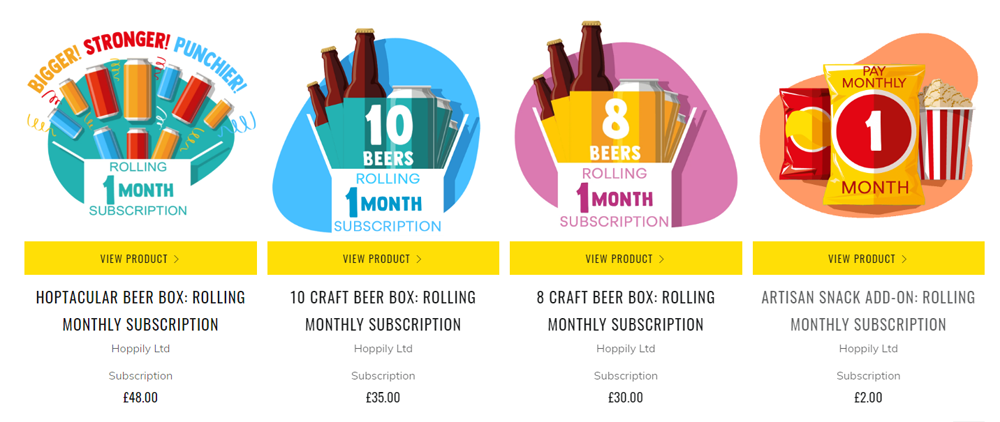 The price varies depending on the choice of box. It starts at £30 for the 8 beer box, £35 for the 10, and the bigger cans and stronger brews of the Hoppity box, it costs £48.
This does mean there is an option for different budgets, with the eight and ten beer boxes costing what you might expect from a beer subscription.
There is also the chance to use a Hoppity discount code to get some money off your first order.

How Much Is Delivery?
With the Hoppily Craft Beer Club, delivery is free. When it comes to filling a basket from the bottle shop, it is free when spending over £60, or £5.99 for standard shipping, and £6.99 for next business day delivery.
What Are The Benefits Of A Hoppily Subscription?
The first benefit is the convenience factor. Receiving a selection of rare craft beers is an obvious plus point. These can't be sourced so easily so for the craft beer enthusiast, it is a bit of a dream.
Then there is the discount members get. When signing up to a Hoppily Craft Beer Club, you get 15% off the bottle shop, it is full of more rare and exciting beers which makes this very tempting. 
What's Bad About It?
To find anything negative about this subscription you are going to have to get quite picky. Even with the craft breweries, the price isn't off-putting.
That being said, some people like to get tasting notes with their box, and other companies may include a snack for free but Hoppity charges an extra £2. Like we said, we're splitting hairs as the main thing is they send quality beer every month.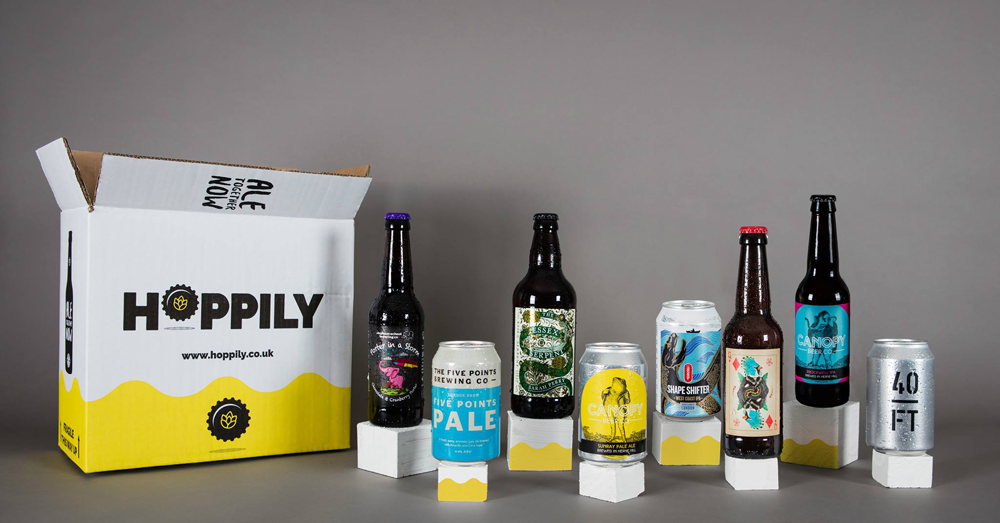 Hoppily Discount Code
We mentioned their discounts earlier, but we wouldn't be revealing them if they weren't worth using. Thankfully, there is plenty of good about a subscription so we have no problem recommending using the following code:
Similar deals to Hoppily
BREWDOG
50% off box 1, 30% off box 2 and 20% off box 3

BEER52
Exclusive 8 x free beers worth £24