Also, we will reveal the latest Brewdog subscription promo codes towards the end.
What Is A Brewdog and Friends Subscription?
Anyone who wants some of the UK's most popular beers delivered to their door should take note. Firstly, this is a subscription for either normal or non-alcoholic beers, so the designated driver can enjoy the same great taste as everyone else at the party.
Otherwise known as Brewdog and friends, it includes a mix to keep things interesting. Every month they send 8 sessionable beers with four from Brewdogs hoppy range and four from some of their friends.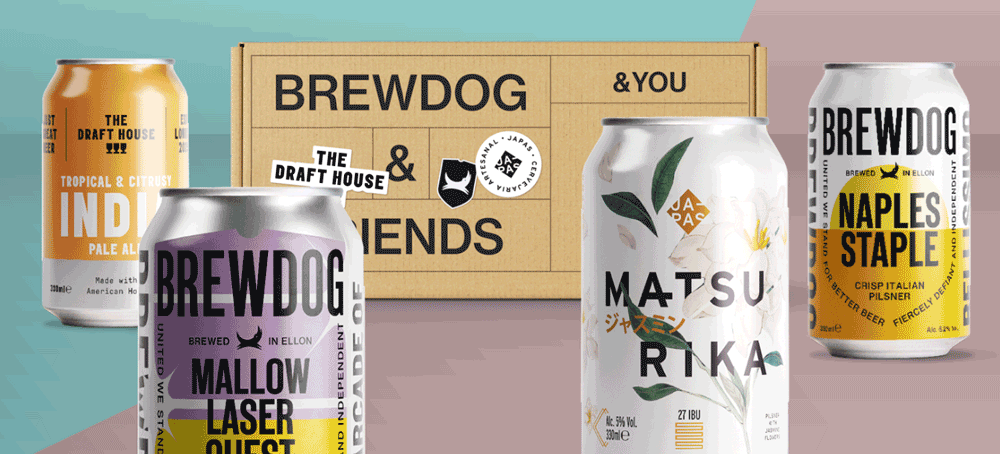 More beer brands similar to Brewdog
What Are The Beers Like?
So far we have only experienced and heard excellent things about the quality of the beer. As for the Brewdog contribution to four of the eight cans included, they are as delicious as ever. 
We have tried the Brewdog Tony's Hopoloney IPA and found it on the sweet side but in all the best ways. Then there are plenty of session style beers from other brewers such as Isskold Vienna Lager and Cycle Brewings 'Pedal Pony Pilsner.' 

The variety is what makes it exciting as you can never tell what is going to be included, It is a great way of discovering new favourites. 
How Much Is It?
The Brewdog monthly subscription is one of the more reasonably priced options if opting for the pay as you go option at £19.95. This does not include post and packaging but does get you eight quality beers to your door every month.
There is also a quarterly option at £59.85.
Payment is taken on the 2nd of every month and is dispatched around the middle of the month. Subsequent payments are taken on the same day monthly.

How Much Is Shipping?
Shipping is charged at £3.95. This is pretty standard for the 8 can beer subscription boxes. Considering the weight of the package it doesn't seem unreasonable that it is likely to partly fund their zero carbon emissions.
The Sustainable Beer Club
This is the claim from Brewdog. They call this the world's most sustainable beer club because they brew in their negative carbon emissions brewery. It is difficult to prove that they are the most sustainable in the world, but as something to aim for, it is pretty admirable.
They say for every beer they brew, they remove twice as many emissions from the air, something we can get behind.
What Else Is Included In The Brewdog Monthly Subscription?
Besides the eight quality non-alcoholic beers, there is a magazine from Brewdog and their friends. This introduces the customer to the different brands included and gives some interesting information about their background and what to expect from the taste.
Another perk is that it comes with membership benefits. This can get you discounts and access to other offers every month.
Can You Cancel A Brewdog Monthly Subscription?
Yes, the process is relatively easy and you do not have to call as you do with Beer52. You must cancel before the 2nd of the next month to prevent the next payment from being taken. Just go to My Subscriptions in My Account.
There is also the option to skip a month.

Are There any Brewdog Monthly Subscription Discount Codes?
Well, we have established that this is a subscription well worth looking into, so it is good to check on discount codes first. We always keep this secretion up to date so if you are considering a subscription, check in with us before clicking purchase.
The latest Brewdog subscription discount code can be found here. 
Conclusion
For us, the main plus point of a Brewdog and friends subscription is the quality of the beer. That, and the variety. It can be difficult to find unique breweries and the ease of the 8 cans arriving at the door is hard to resist.
We like that there is a non-alcoholic version as it means that no one has to miss out. If you are looking for the best beer subscription then you can't go wrong with Brewdog. Be sure to check the discount code before purchasing and get ready to wait for those hoppy tipples.
Similar deals to Brewdog

BEER52
Exclusive 8 x free beers worth £24

FLAVOURLY
£15 off your first case. 30 Craft Beers for £29.90 (Subscription Offer)