Who Are Honest Brew?
They have a catalogue of hundreds of craft breweries across the world that they source their stock from, so you can expect variety. All of their products come with a fresh beer guarantee so there will be no sipping close to the sell-by date upon arrival.
The membership is a good option for all beer lovers as it means you get rewarded for loyalty. With more beer in the fridge, you get freebies, as well as discounts. Every month the beer membership gets points topped up and access to plenty of beers that are hard to find. 
They offer a monthly subscription service, as well as curated cases that can be bought without any commitment. 
More beer brands similar to Honest Brew
What Is An Honest Brew Subscription Like?
It's a simple process, but it works. Start by selecting the type of beers you like (the options are essentially mixed styles but more dark ales, or light beer - think IPAs and pale ales). The good news is that this can be changed at any time so if you get tired of the hoppy IPAs you can switch to the dark stuff, and vice versa.
An Honest Brew subscription always comes with a surprise and a box of quality craft beers. This is what most people tend to say - the beers are rather great. They have the likes of Beavertown Neck Oil, Kernel Table Beer, and breweries like Cloudwater to name a few.
You'll find tropical infusions as well as the occasional Gluten Free option so there is plenty of variety included. Then, the next stage is to fill out your details, and await the first delivery date.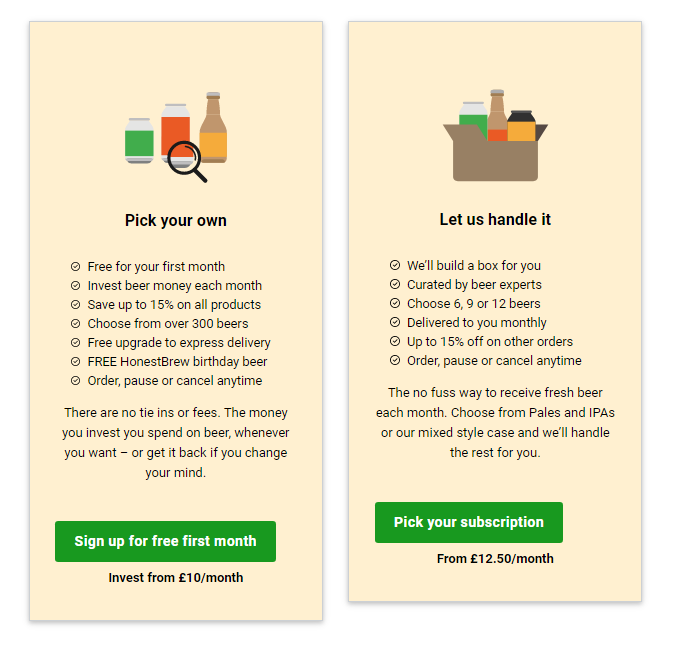 How Much Is Honest Brew Subscription?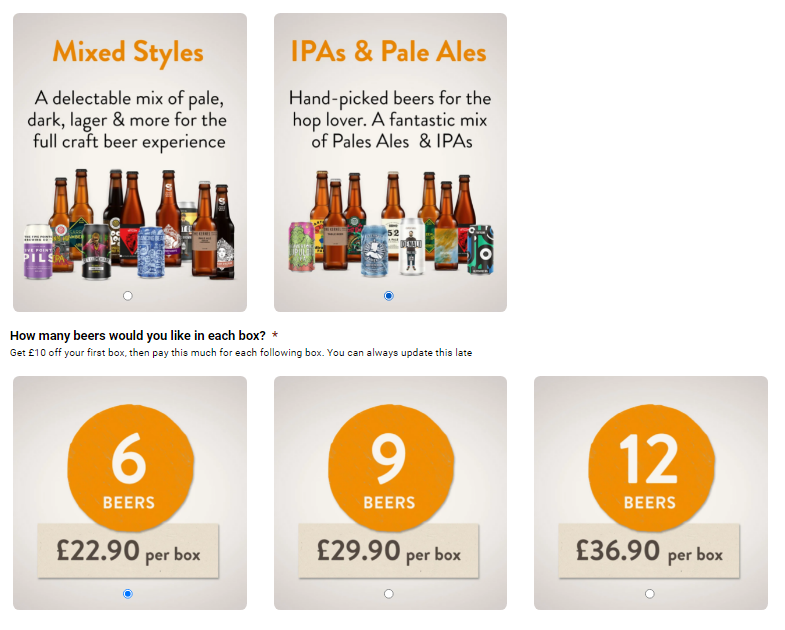 This varies depending on how many beers you go for. It starts at £22.90 for six, £29.90 for 9, and £36.90 for 12. This is in line with competitors, and it does make them quite flexible.
The beers come in pairs which means you get to enjoy double the ones you like, but any that you aren't keen on may need to be given another chance (this hasn't happened in our experience anyway).
How Much Is Delivery?
It is free with every subscription. When it comes to the bottle shop, orders are charged at £4.99 for delivery unless you spend over £50, in which case it is free. 
A subscription is sent via DPD or Yodel and can be tracked so you'll know the whereabouts of those bottles and cans at any time.
What Are The Benefits Of An Honest Brew Subscription?
The main benefit is access to great craft beers, some that are difficult to get your hands on. The next plus point that we noticed was the flexibility of the subscription as a whole. Not only can you pick different boxes with various quantities, but there is a choice of two boxes, and the ability to cancel any time. 
Being a member also means that you get exclusive discounts which can bring the price down. Not bad for when you are looking to add a couple of favourites on top of your regular subscription. 
Of course, as with any subscription box, it is the convenience that is key. This is a subscription that can be left to continue, with fresh beer turning up at your door every month. Cheers to that!
What's Bad About It?
There's nothing majorly wrong with it that we can think of, this is craft beer from independent breweries after all. Some may not want two of everything, but we're a fan of this.
Honest Brew Discount Code
Well, we said we would reveal whether or not the discount code is worth using, and it seems obvious that it is. The brand as a whole is great and fresh craft beer is never something to be taken lightly (unless you're talking about light beer).
The Honest Brew subscription can also be given as a gift. Who wouldn't want to receive beer delivered to their door every month from people that know what they are doing?
Below is the most up to date Honest Brew discount code.
Similar deals to Honest Brew
BREWDOG
50% off box 1, 30% off box 2 and 20% off box 3

BEER52
Exclusive 8 x free beers worth £24
FLAVOURLY
£15 off your first case. 30 Craft Beers for £29.90 (Subscription Offer)