Who Are Flavourly?
The company's name alone will ring a bell for many people. Flavourly founder Ryan O'Rourke took his company to the investors of Dragons Den, managing to get a deal that he later turned down as he found a different way of sourcing the funds to grow the business.
Now considered to be a luxury beer club, they aim to make craft beer as affordable and convenient as possible. Because the beer is made to order, it is always fresh and comes from some of the most exclusive craft breweries around. This is great because no one wants to drink a beer that has been collecting dust for 9 months.
There is a clear passion for the craft beer community in the way they do things which bodes well for their subscription service. 
More beer brands similar to Flavourly
What Is In A Flavourly Beer Club?
First impressions are good since it is one of the more reasonably priced beer subscription boxes available. Every month they send a box of 8 or 20 beers, a snack, and an exclusive magazine. 
There is some customisation involved meaning the customer can pick their preference and not end up with a bunch of dark ales they don't actually like, or another tipple that sits in the fridge for months. It means you get more of the cans and bottles you love, whether it be IPA's and light beers, or a mixed bag with a bit of everything.
The magazine is a nice addition to the box as it details plenty of information about the brewers, tasting notes and articles about all things beer. It is another item that makes the Flavourly offers so tempting. 
The craft breweries they use are award-winning, and each collection is carefully selected by a team of experts so it does have a luxury appeal to it without breaking the bank.

How Does It Work?
Like we said the customer is in control and this includes the frequency. You can choose to receive a delivery every month, two months, and three months. This can also be cancelled at any time without the hassle that other brands are notorious for.
We should note that the craft beer club is where you get new beers every month. But with the subscription, it is possible to get some repeats along the way. The selection should still be varied either way.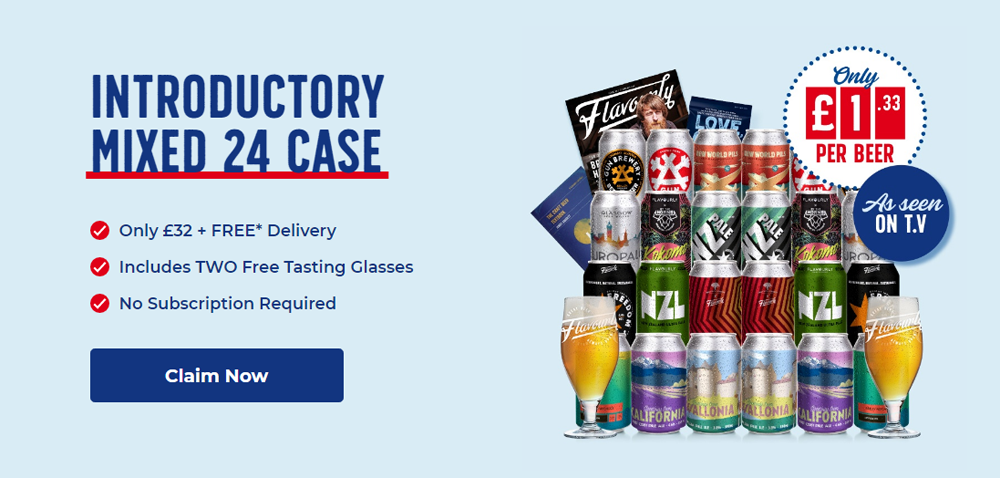 What Is The Beer Like?
With so much emphasis put on the sourcing of quality beer, and their support for all things craft, Flavourly beer does live up to its reputation.
They have Flavourly exclusives that aren't available elsewhere. There are plenty of interesting flavours from the likes of Loch Lomond Brewery x Flavourly including the Friday Paycheck IPA, which has a typical citrus blend of Grapefruit and lemon, with passion fruit aromas. Otherwise, there are beers like the Table Red from Gun Brewery - an amber and red ale that goes down well.
There are so many available that it is pretty much impossible to get bored, and the fact that there are 8 included in every monthly subscription means you have a nice for a good few nights if you are the sort of person that can space them out.

How Much Is Delivery?
This is another plus point for Flavourly - delivery is free nationwide. There is also no minimum spend but this does extend to the subscription service for the beer club. 
How Much Is The Flavourly Craft Club?
We did mention that this is one of the most reasonably priced options, it costs £19.90 for the craft beer club or £26.90 for the subscription, but both are worth a lot more. Then, there is the free delivery and the fact that there are Flavourly discount codes available that can make this even cheaper.
It doesn't feel like you are getting short-changed in terms of quality either. A lot of the beers aren't widely available so there is an exclusivity to it as well.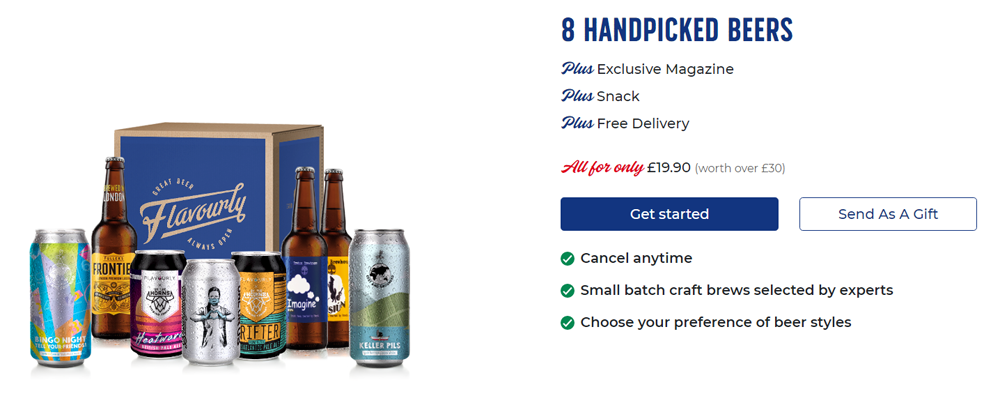 Are There Any Flavourly Discount Codes?
Yes, there are. We think that the price is already tempting compared to the competition but a Flavourly discount code makes it even better. 
Always check with us before committing because we keep them up to date, the latest can be found here.
Similar deals to Flavourly
BREWDOG
50% off box 1, 30% off box 2 and 20% off box 3

BEER52
Exclusive 8 x free beers worth £24