35% off your first 2 boxes

Who Are Feast Box?
A combination of the love of a Grandmother's cooking Indian cuisine to realising that Uni friends didn't know how to cook world cuisine for the seeds to be planted of Feast Box. It wasn't until the idea of making global food accessible to everyone soon became a business concept for the founder.
Before that, she founded Red Rickshaw (which later became the UK's largest online Asian grocery store) in 2017 but later realised after becoming a mother that she didn't have as much time to experiment and make exciting meals. 
That's where Feast Box came to light. The convenience of having quality ingredients and everything needed to make world cuisine delivered to the door is fast becoming one of the most popular food subscription boxes.
More recipe boxes brands similar to Feast Box
How Does A Feast Box Subscription Work?
Think of the vibrant cuisines from all over the world and that's essentially what you get in a box. It can include recipes with all the fresh ingredients for making meals from Asia, Africa, Latin America, the Caribbean, Middle East, Korea, and beyond. 
We like that a Feast Box subscription puts the customer in control. You're not getting random meals delivered. Instead, it works by allowing you to pick your weekly pick of some of the world's most exciting menus. One of the first options is for how many mouths this is intending to feed, picking either a two-person or family-sized box.

Then, the ingredients and recipe cards (which do make cooking a lot easier) are delivered to the door. 
The authentic ingredients are locally produced, and the meat is 100% British making it a great option for proper foodies. 
What Is In A Feast Box?
Well, those quality ingredients don't have to travel far to get to you which is part of what makes it a quality subscription box. A big benefit of this is that the contents support British farmers.
The recipe cards include step by step instructions and it must be said that these are easy to follow, with nothing complicated involved. Most of the strain of cooking is removed since the box includes the precise ingredients leaving zero waste. There is the neatly packed meat, as well as other ingredients that might be necessary such as a can or two of coconut milk. 

Other ingredients may be packed in small containers, giving only exactly what is needed. 
So, you could be making Chicken Katsu, Mapo Tofu with Pork, Vegan Courgette Pancakes, Chicken Joojeh Kebabs, and whatever else is available that week. The recipes change all the time to keep it exciting. 
It is all delivered in sustainable packaging that ensures the food remains fresher for longer.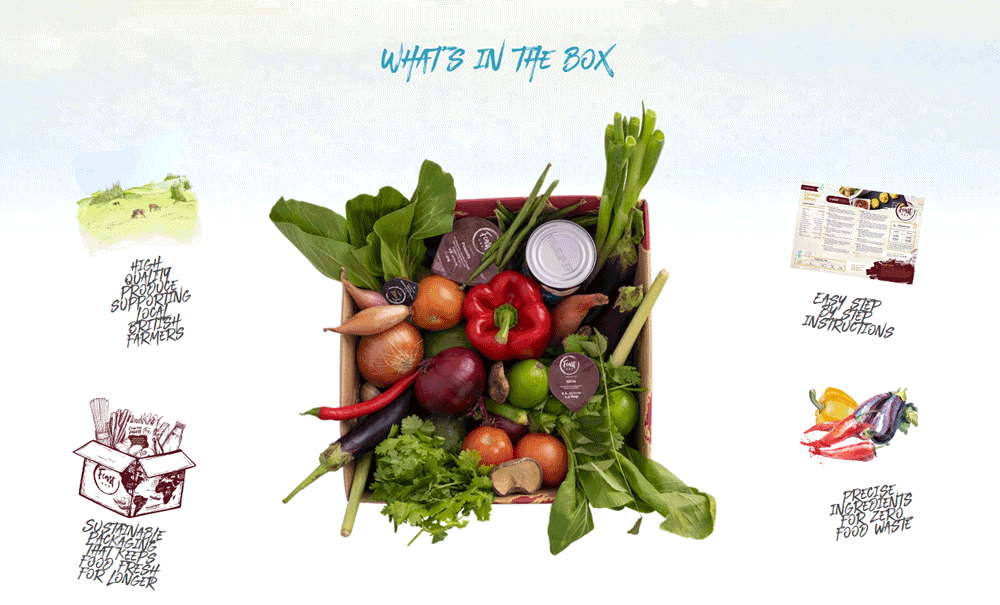 Does Feast Box Make Cooking Easy?
It does. To begin, we were unsure just how convenient it would be, but even the onions are sauteed and with exact measurements, there is no guesswork. It is a great idea for busy families or anyone who wants to make a fresh meal as easily as possible. 
How Much Does Feast Box Cost?
There are so many variants that it makes it difficult to say. The price of a subscription can depend on how many you are cooking for, and the number of meals included but on average they tend to cost around £6.50. 
The fact that the ingredients are high quality and you are getting a fresh meal but at your convenience makes it worthwhile. 
Can You Cancel Feast Box UK Subscription?
It is easy to cancel and can be done online. For anyone looking to skip a week, this is also simple. It just means that when you get back from a holiday, there isn't going to be a box of food waiting for you. 
The subscription can also be paused for as long as is convenient, but all this needs to be done before the next order is due to be dispatched. 
Are There Any Feast Box Discount Codes?
Yes, there are, and we always keep them up to date. If you are unsure about whether or not to use them now, be sure to check back here. For the latest Feast Box discount code, you can be sure that we can help make this worthwhile subscription more affordable.
Similar deals to Feast Box
GOUSTO
65% off first box + 30% off first month
GRUBBY
Exclusive 50% off your first week then 30% off next 3 weeks