The answer for many is a food box subscription. This is one of the most popular in the UK, so you would be right in expecting a lot of variety. Their rise to the summit also means there must be more to them than fresh ingredients, but for a company that claims to be the UK's number one recipe box delivery service, just what can they offer that others don't? We're going to take a closer look and see if the Hello Fresh discount code we have at the end is worth using.
Who Are Hello Fresh?
Hello Fresh was developed in Berlin in 2011, it was a year later that they entered the UK market becoming the first to offer a food subscription service of this kind. Now they operate in 12 countries, offering no prep homemade meals with fresh ingredients.

When they say they are number one, the numbers do not lie. They have over 11,000 employees working to deliver over 600 million meals in 2020 alone. In the first quarter of 2021, they had over 7 million active customers, showing just how popular Hello Fresh meals are.
They aim to provide every household with homemade meals that are wholesome and convenient is the key to what they do. 
They have a focus on sustainability to create less food waste and every box that is delivered is CO2 neutral.
More recipe boxes brands similar to Hello Fresh
How Does A Hello Fresh Subscription Work?
It's a simple process, and It all starts with the meals. Choose a selection of your favourites, and pick from the likes of Harissa chicken, herby pork ragu, aromatic beef pilaf, and lots more. The selection is impressive, and we like that they include the expected cooking time in the corner. Some can be made in as little as 20 minutes. 
Their meals change weekly so you don't have to keep ordering the same ones every week. Variety is the spice of life after all. You can select the box you want based on how many people it is for. Go for the family box, classic box, or rapid box. Then fill it with three, four, or five meals. 
Then, it is time to add a few extras should you wish to. This is where the sides and desserts can be added, and some are very tempting (we're looking at you chocolate orange cheesecake pots). 
After this, it is time to schedule a weekly delivery, there are plenty of options here. Then, await delivery of your regular Hello Fresh subscription. They deliver 7 days a week.
Flexible Options
One of the most impressive things about Hello Fresh subscription is that you are never short of something a little different. This means there are 20-minute meals for those in a rush, flexible box sizes to cook up a feast for guests, extras like sweet treats, and premium meals for special occasions.
There are also a lot of options for vegetarians so those who follow this lifestyle will find there are plenty of meals they can get stuck into. 

Why Use Hello Fresh?
One of the major benefits is time saved. Cooking a nutritious meal from scratch can take a lot of effort, but this is a service that is easy to use. From the recipe cards to the measured portion sizes, there's a lot to like. 
It is also one of the best value food subscription boxes. That's the benefit of using a big company. There is also the quality of the food to consider, we've only ever found them to be fresh, which makes a difference when it comes to mealtime. 
Of course, their measured ingredients are exactly what is needed to reduce waste as well.
How Much Is Hello Fresh UK?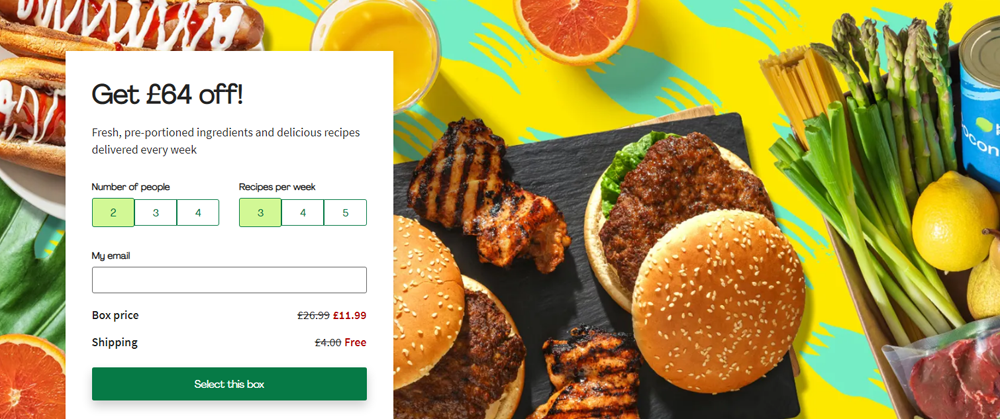 Meals start at £3.25 per person. We have found that a Hello Fresh subscription is one of the best value options which might explain why it is so popular with families.
This will change depending on what you order, but filling a box with a handful of easy to prepare meals doesn't have to cost a lot. 
Is The Hello Fresh Discount Code Worth Using?
Absolutely. The Hello Fresh discount code we have is a great way of getting started and saving some money on what is an excellent food subscription box. We always keep this section up to date so be sure to check in here to get the best discount.
The latest Hello Fresh promo code is here

Similar deals to Hello Fresh
GOUSTO
65% off first box + 30% off first month
GRUBBY
Exclusive 50% off your first week then 30% off next 3 weeks