We're going to see how the brand has developed into one of the biggest in the UK, and see if the Riverford discount code we have is worth using.
Who Is Riverford?
They say they were one of the first, and with over 25 years of experience, Guy Watson first started the company from his farm in Devon.
That has escalated into more Riverford organic farms across the country, strategically placed in Cambridgeshire, Yorkshire, and Hampshire so they can get their products around the country. 
Riverford delivers around 50,000 boxes a week making them one of the UK's biggest food subscription boxes services. 

What makes them different from a lot of the competition isn't just size and reach, nor is it their organic produce. They also offer a lot more than fruit and veg. It is possible to add a lot of pantry goods and even organic beer to your box.
Because of the seasons, they will source some of their produce from elsewhere, but the bulk is from their farms. They are conscious about their carbon footprint so import any products from abroad by sea and also use compatible packaging.
They estimate that this approach saves 21 tonnes of plastic every year. Their packaging breaks down easily and will be decomposed within a year.
More vegan brands similar to Riverford
How Does A Riverford Subscription Work?
Their seasonal fruit and veg boxes provide a variety of options. There is even a meat subscription box but let's take a look at some of the most popular options for your 5-a-day.
All of their boxes are available in small, medium, and large, and you can pick from fruit, fruit and veg, salad, or just fruit. They tell you what is included and there is a guide to advise on how many people it will feed.
We like that Riverford organic gives you the origin of each food item so you can see how far it has travelled, but there are also 100% UK boxes available, and zero packaging boxes.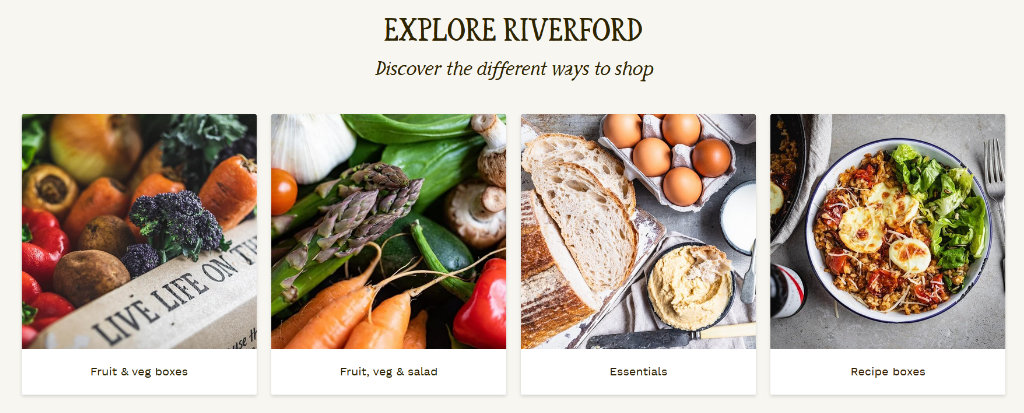 Once you have selected the one that matches your needs you have to check that Riverford delivers in your area. They cover most of the UK so chances are they will.
After this, you choose the frequency. There is the chance to make it a one off box, or recurring every 1, 2, 3, or 4 weeks. You are then given a delivery date for the nearest convenient slot available in your area.
There are plenty of options for adding pantry items before heading to checkout. There is everything from bread and cheese to wine and beer. It has enough variety for most people to do the bulk of their weekly shop.
How Much Is Delivery?
Another plus point is that delivery is free and easy. There is the option to leave it with a neighbour if you think you will be out, or even in a designated safe place.
Riverford uses its own delivery drivers rather than a courier company and each box is usually delivered by the same person.
What's Good About It?
The quality is undeniably good. Compared to the supermarket, this is organic veg for a reasonable price and the fresh items are usually from the UK.
The convenience of having all your veg delivered straight to your door is no different from a regular food shop, but getting them from a company that prides itself on organic produce that is seasonal is a big plus point.
Their website has some great add ons and recipe ideas, plus there is compostable packaging which puts it ahead of a lot of the competition.

What's Bad About It?
There isn't anything major. As always Riverford organic will send the odd substitute and as with the supermarket, they aren't always spot on, but most of the time everything is as you would expect.
How Much Does Riverford Cost?
A small seasonal veg box costs £12.95. In autumn, this includes a variety of staple items such as potatoes and onions, with sweet potatoes and spinach among the other items. 
The medium seasonal veg box is their most popular and costs £15.35, with the large £20.55.
Is The Riverford Discount Code Worth Using?
We think so. Although the subscription is already very reasonable considering all the locally procured organic food, it is always nice to get a little extra off. We always keep this section up to date so be sure to check-in for the most up to date Riverford discount code as below:
Similar deals to Riverford
ODDBOX
£10 off your 1st and 4th box
GRUBBY
Exclusive 50% off your first week then 30% off next 3 weeks