Who Are KBK Meal Prep?
These are meals made for food lovers without the luxury of time on their hands. But as these meals can be made in 3 minutes, it sounds too good to be true. They only use fresh ingredients that are locally sourced so no one can question the quality. 

They have been catering for the UK for years and used to be known as Kettlebell Kitchen. This was to appeal to fitness enthusiasts and although they have rebranded since the emphasis on healthy meals remains. 
The quick prep of their meals takes away most of the effort and frees up more time to do what you enjoy the most. They only require heating up and although they are like ready meals, there aren't additives or any junk.
With a wide variety of meal options, KBK Meal Prep allows you to try something new without having to make it yourself.
More prepared meals brands similar to KBK Meal Prep
How Does KBK Meal Prep Work?
The process is simple and starts with choosing the right meal plan for your goals and needs. Their plans include Get Lean, KBK Every Day, Build Muscle, Vegetarian, Juice Cleanse and Plant-Based.
The plans are flexible and can be tailored to specific needs such as how many days per week they are needed, and how many meals per day. The calorie content is provided making it easy to stick to a fitness goal and each one is made to restaurant standards. 
The menu is constantly changing so you will never be short of options. With plenty of old favourites like Braised Beef Bolognese and Chicken, Pesto, and Goat's Cheese Spaghetti, there is a lot to like. We like that they also include the nutritional information so you can see why the meal plan is good for you. 
You also need to select how many weeks you wish to commit to. The good news is that a KBK Meal Prep subscription provides a greater discount. But it is possible to get one off deliveries.
As a trial run, there is also the option to get breakfast, lunch, and dinner for three days which gives you a taste of what it can be like to use their service regularly.
After filling out your details, you simply wait for the delivery of the nutritious and convenient meals. 
Meals are delivered with the cooking instructions underneath and it is possible to get multiple deliveries per week so the meals remain fresh.
What Sort Of Meals Do They Offer?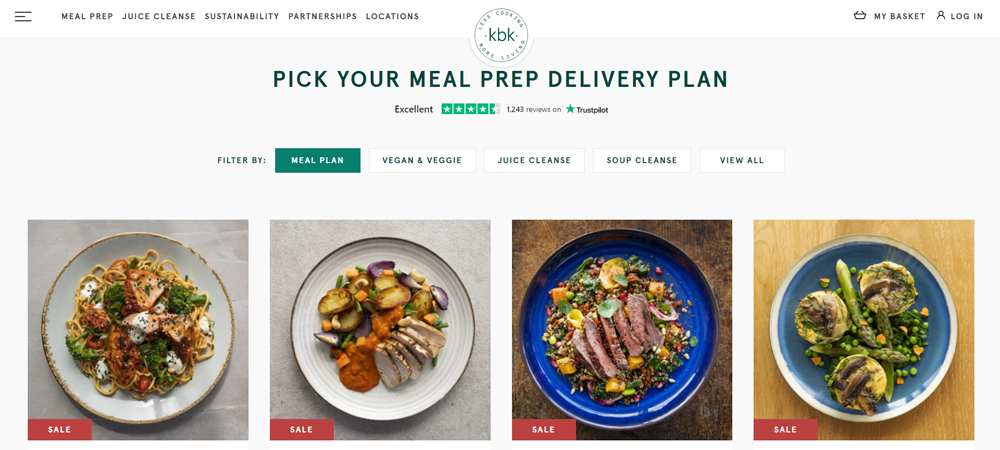 The chefs have a combined 100 years of experience so know what they are doing. This is clear in the menu as there is a wide variety of options. Thai Pork Mince with Asian Slaw and Rice is one of the most tempting, but there are so many more.
Vegan Spaghetti Alfredo with Quorn, Warm Mustard Chicken with Roasted Veg and Healthy Ranch Dressing is another, or Sea Bass Fillet with Puy Lentils, Tahini, and Chorizo.
The menu changes all the time so this is not the sort of food subscription box that will get boring any time soon.
How Much Does KBK Meal Prep Cost?

The meals decrease in price with a subscription and can cost as little as £3.84. This will change depending on the number of meals and the frequency of deliveries. 
How Much Is Delivery?
Another perk of using KBK Meal Prep is that delivery is free nationwide. This is another extra saving that similar brands might not offer.
So, Is It Any Good?
The meals are made from fresh ingredients, packed full of nutrition, and can be tailored towards different health goals, so yes.
There isn't anything that stands out as a red flag, these are healthy meals that are conveniently delivered to the door. A busy lifestyle doesn't have to get in the way of eating right so whether you have a young family, or work is hectic, KBK Meal Prep is a good option.
When a takeaway is on the cards, we always think that using a service like this is a much better, and often more affordable, alternative, 
Are KBK Meal Prep Discount Codes Worth Using?
We have to say yes. The quality of the food is high and reasonably priced so we can't think of a reason to not use our KBK MEal Prep discount code. We always keep this section up to date so the latest is available below. 
Similar deals to KBK Meal Prep
PLANTY
£30 off your first three boxes (£10 off per box)