This is not a large food box stuffed full of items you need to pack away. They send a letterbox sized box that contains 4 recipe kits and step by step recipe cards. It sounds good, but how does it work, and is the Simply Cook discount code we have worth using?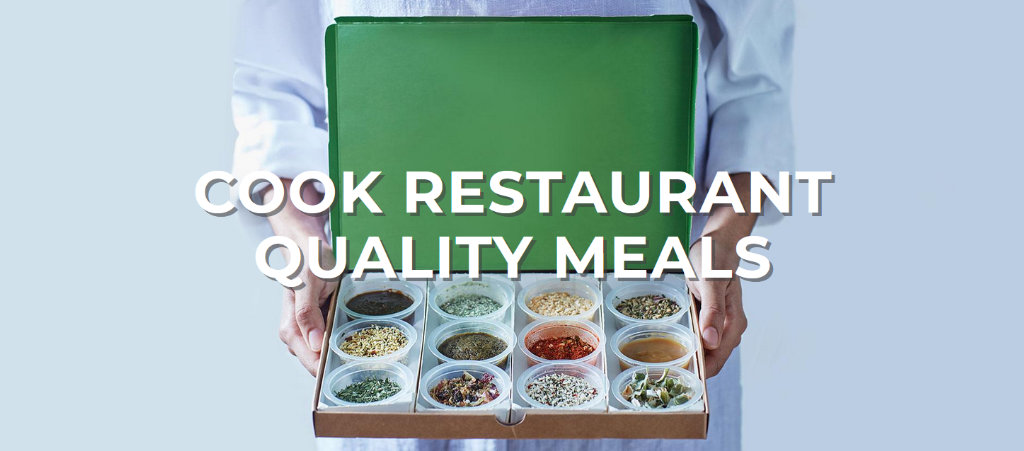 What Is Simply Cook?
A meal kit service that is the brainchild of Oli Ashness. They aim to get people to cook nutritious meals at home. 
This isn't like other food subscription boxes in that the ingredients arrive in small pots to add to fresh ingredients that a lot of people have ready, but can be purchased from the supermarket with ease. 
The Simply Cook recipes offer a decent amount of variety. There is everything from stews to curries, but also the likes of Balinese pasta, Jambalaya, and more. 
You pick a selection of four every week, and they are constantly changing to make sure there is plenty of variety. 
Included in the boxes are the dry ingredients (pastes and seasoning) and recipe cards. 
They are organized into four sections, with three plastic pots full of ingredients and recipe cards for each meal. 

What Are Simply Cook Meals Like?
The meals themselves are very much down to the user to make. The ingredients seem fresh but these are pastes and seasoning so it is difficult to get wrong. We like the fact that it makes mealtime easy and the flavours are excellent.
How Does A Simply Cook Subscription Work?
It all starts with the choice of meals. We mentioned there is a decent variety of hot meals to make that only require 4-6 ingredients more than you add yourself. 
Then, you fill out your billing information and address, and they are ready to go. The meals come with free delivery which is convenient since they also fit through the letterbox. 
They take around 4working days to get to you upon ordering and are sent via Royal Mail. 
They do put you in control of your subscription meaning you can pause, skip a month, or cancel anytime. 
How Easy Are The Meals?
Simplicity is the name of the game when it comes to a Simply Cook subscription. Because they have taken a lot of the strain out of flavouring the dishes, expect to spend between 10-20 minutes cooking each meal. 
Some naturally take a little longer, but this isn't far off for most meals. Emptying the kits into the mix is easy and the instructions are laid out in a way that makes each one seem simple.
How Much Is Simply Cook?
We didn't expect it to be much, and it isn't. The boxes cost £9.99 a month with free delivery. That's not bad for the inspiration to make 4 meals.
Is Simply Cook Good Value?
There is decent value here since you are likely to cook meals you have never tried before. Not only that, but the portions are very generous once cooked. It is suggested that they are shared between two but they could easily feed four.

What's Good About Simply Cook?
We like the ease of it since it comes through your door and provides new inspiration. Anyone tired of cooking the same meals on rotation will appreciate the new lease of life for their cooking skills.
Also, it doesn't cost a lot for something that does motivate you to try new things. Anyone with a limited cooking space will also find that Simply Cook is a great idea. The kits are convenient and aren't sent in large packets.
Going on a self-catering holiday? Then this would make an excellent addition to your limited boot space for cooking away from home. 
What's Bad About It?
You know what you are getting so it is difficult to complain. These are essentially spice kits and pastes that you add fresh ingredients too. 
This convenience is enough for most people to appreciate but if you want complete meal kits, it won't be for you.
Is The Simply Cook Discount Code Worth Using?
We believe it is. There is plenty to like about a subscription and it is already good value. But why not get a bit of extra discount by using our Simply Cook discount code. 
We always keep this section up to date so be sure to check in with us before making your first order. 
Similar deals to SimplyCook