Many people will be hoping that a Love Free From subscription is the answer. They offer a range of gluten-free snacks and drinks delivered to your door every month. For the gluten-intolerant of the world, it almost seems too good to be true. We're going to see if it is, and whether or not the Love Free From discount code we have is worth using.
Who Are Love Free From?
They are a family run business based in the UK who, you guessed it, have struggled to find Gluten-Free snacks for years. The business was conceived so that other people with Gluten intolerances can enjoy tasty snacks, condiments, drinks, baking and cooking ingredients from all over.

This is all from the comfort of home, and the fact that they are all safe to eat will be a weight off many people's minds. They take the strain out of analysing labels for ages and there are plenty of brands included that will be new to most people. 
Love Free From has been featured in several UK tabloids such as The Independent, and The Telegraph, as well as Glamour magazine.
More gluten free brands similar to Love Free From
What Is Included?
A typical box includes 12+ Gluten-Free items such as pancake mix, brownies, Nix & Kix Sparkling Raspberry and Rhubarb drink, Cappuccino and Dark Chocolate roasted Chickpeas from My Sweet Chickpea, Arrabiata sauce, and tonnes of different items and brands.,
For a little inspiration, there are two recipe cards in every box, and discount codes for Gluten Free brands, as well as a small gift. Some boxes even include a sample or two. 
The value of the box always far outweighs the money spent on a subscription, so you never feel short-changed. Instead, a Love Free From food subscription helps those following a Gluten-Free lifestyle to discover new snacks and brands.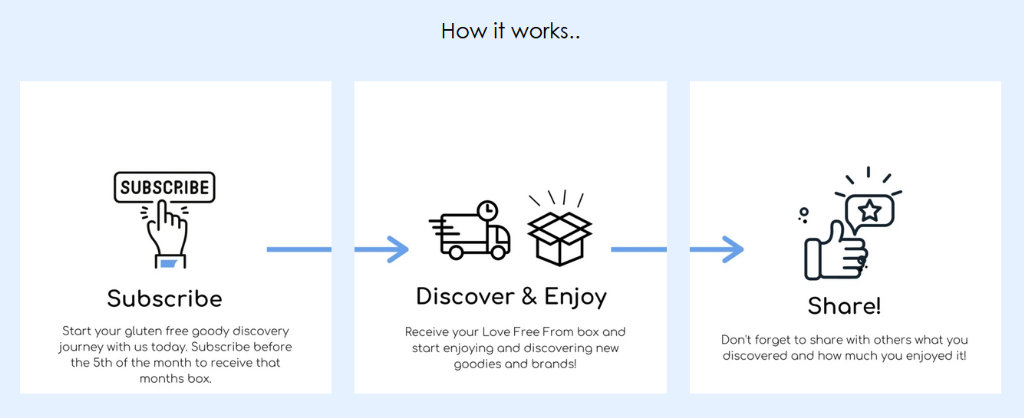 How Does A Love Free From Subscription Work?
It all starts with adding the box to your cart, and there are a few to choose from and includes the following:
Gluten-free discovery box
Gluten and dairy-free discovery box
Gluten and oat free discovery box
Mini Kids snack box (bi-monthly)
There is also the option to grab a 3-month subscription which provides a bit more discount. 
Once you have chosen your box, you fill out your details and wait. Any orders placed before the 5th will receive their box the same month, usually dispatched around the 15th. 
How Do I Cancel Love Free From?
They make it easy to cancel as long as it is done before the 1st of the month. There is no cancellation fee and it can be done on the website. 
There is also the option to pause a subscription, and change the delivery frequency to every 2 or 3 months. 
If your allergies have changed, it is possible to change the box you wish to receive. Do this by emailing them via the website. 

What's Good About It?
This is a subscription box, dedicated to Gluten-Free foods and drinks, that in itself is amazing. It's not easy finding Gluten-Free snacks, and beyond the same corner in the free-from aisle, things can get pretty tricky, not to mention samey.
The main strength of a Love Free From subscription is that there are always new items you haven't tried before. The likes of almond butter are useful, but there are lots of quirky snacks worth shouting about, and unusual flavours. 
Not having to read the label when the box arrives is reassuring, and means you can relax whilst scanning the box for what you want to try first, not what you can consume without falling ill.
Being gluten intolerant doesn't mean you have to miss out on this subscription box. We found the variety to be impressive, and although not every snack is a winner, most of them are worth shouting about. 
How Much Is It?
A monthly subscription costs £23. A 3-month subscription reduces this, as does a Love Free From discount code, which we will get to soon. 
Considering the value of the box usually far exceeds £30, this seems very reasonable. 
Is The Love Free From Discount Code Worth Using?
Yes, it is. There aren't any noteworthy downsides to a subscription, so getting some money off is always a good idea. We keep this section up to date so the latest Love Free From discount code can be found here. 
Similar deals to Love Free From