There are a wide variety of options, and we're going to take a closer look to see if it is worth using. By the end of it, we will reveal the latest Letterbox Gifts promo code.

Who Are Letterbox Gifts?
Based in Sheffield, Letterbox Gifts curated boxes with gifts from independent British producers. They seem to care about the companies they deal with which is why there are so many ethical brands finding their way into each box.
This is no ordinary box, and there is a lot of pride in what they do since the hand tied boxes are bespoke and look the part. Their website has different sections to choose a thoughtful gift box for that special someone.
Whether that is self-care and wellness, food and drink, gifts for him, new mums and mums to be, just because, corporate gifts, and gestures and keepsakes. This has a handmade feel to it so they are ideal for anyone who appreciates gifts that feel like a lot of thought has gone into them. 
Letterbox Gifts also does a subscription, and that is what we are going to be looking at today. 
How Does A Letterbox Gifts Subscription Work?
These are truly the gifts that keep giving since they can be sent for a one, three, or six month period. This extends the joy to a loved one but we also think they work as a self-care package every month.
They are themed to suit different people's needs, and many are the same as the categories mentioned before. That way, an expectant mother can get an array of useful gifts to prepare her for motherhood, or a birthday can go on longer than expected.
There is a Letterbox Gifts wine subscription, as well as subscriptions for her.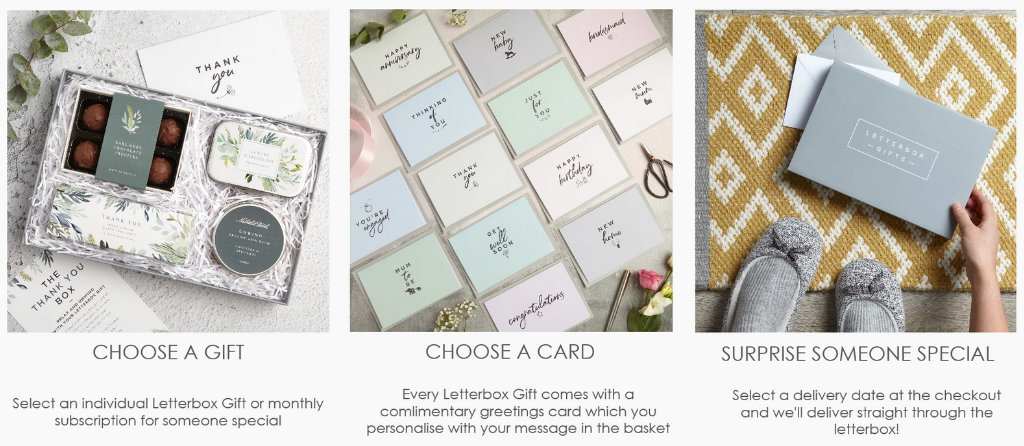 What Is included?
There are different gifts included every month but let's consider the "mother to be" subscription to give a sense of what you can expect. In one box, you will find bump balm which is 100% natural and contains calendula and jojoba oils to make it nourishing. Then there are relaxing oats and honey tealights, raspberry loose leaf tea, a block of soap for mother and baby, and lip balm. 
We particularly like the way they are packaged and this is just one example of how these boxes are curated. There are ways to make each gift a little more special by adding something extra. Some of the options include baby milestone cards, "hello baby" bunting, and baby's hand and footprint kit. 
Of course, these are different depending on the box, but they do make a unique gift even better.
To make sure these are as thoughtful as possible, each Letterbox Gifts subscription comes with a complimentary greetings card, and they can be personalised.

How Much Does It Cost?
A Letterbox Gifts subscription can cost as little as £22.00 a month. The most expensive packages are £30 and there are no hidden extras. 
We found this to be reasonable considering the quality of the products included. These are from independent companies and not widely available which always goes down well as a gift.
Payments are taken monthly and can be cancelled at any time. 
How Much Is Delivery?
Delivery is free in the UK mainland. 
They are sent via Royal Mail Tracked 24 Service and will usually arrive the next working day. Around busy times such as Christmas, this can take a little longer, but not usually over 3 days as a maximum. 
Each box is small enough to fit through the letterbox hence the name. This is a nice touch because it means you never have to be in to receive the package, and neither does the recipient of a gift. 
Is The Letterbox Gifts Promo Code Worth Using?
Who wouldn't want to receive a well-packaged gift box full of unique products from ethical companies? When you think you have run out of ideas, or just want to send something special, we think this is an excellent service.
Because of this, we have no problem recommending the latest discount code. We always keep them up to date so the most relevant is s follows: