Who Are Grubby?
Vegan food is what they do, and they are the UK's first plant-based subscription box. They make delivery kits for those who want to make a plant-based diet easier. 

One of the first things we liked about Grubby food delivery is that they do look out for British producers. Most of their produce is grown on organic land and glasshouses, and even polytunnels, in Essex, Kent, and Bedfordshire. Britain is also the place where a lot of their pulses and grains are grown so they do keep it local where possible.
They have a charitable side, donating a meal for every box sold to a child in poverty in Uganda. 
Now, let's see what their products and subscription service is like.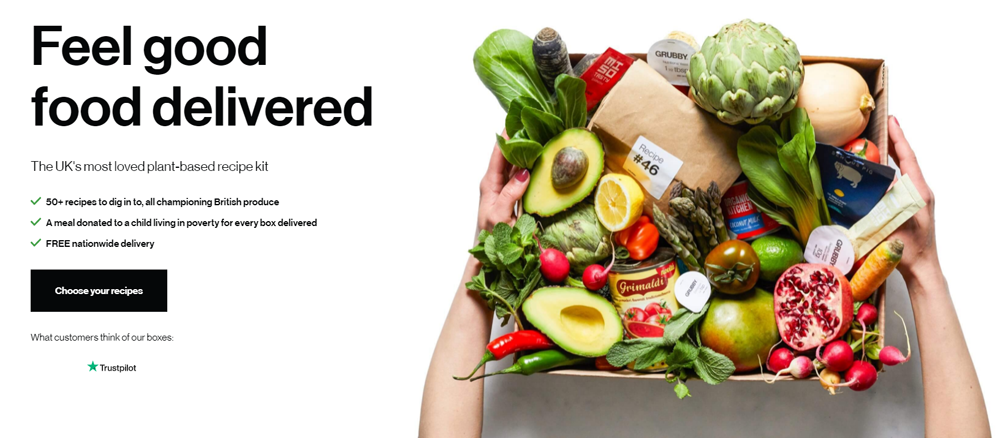 More vegan brands similar to Grubby
What Is A Grubby Food Delivery Subscription?
There are only a few stages to this plant-based subscription box, but that's how we like it. It starts with the simple matter of choosing the recipes you wish to receive. It does seem as though they make the prep as simple as possible with an easy to follow recipe card, so our advice is to just go for the meals you want to eat and try not to overthink it.
Then, choose the frequency and the boxes are delivered to your door when you want them. If you're in London, it is likely to be via bike. 

What Meal Options Are There?
This is a plant-based dream for many people, as there is more variety than a lot of people anticipate. Think of the likes of Jackfruit Chilli Con Carne, Mexican roasted sweet potatoes with black bean and corn salsa, or Sicilian aubergine tagliatelle. 
These are just a handful of the flavours and meals available, and there are always over 50 to choose from. These are updated pretty regularly and since variety is the spice of life, we are all for it.
The kits include the exact ingredients and portions needed to make the meals included, so there is minimal or no waste.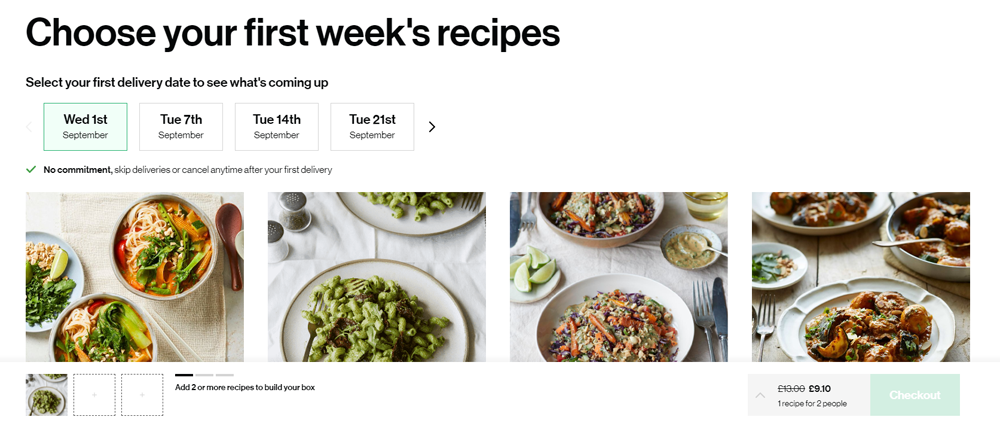 Their recipes include six or more of your five a day. This makes them incredibly healthy, but without compromising on flavour. This can be an issue with some plant-based meals, but not with Grubby food delivery.
For anyone who needs gluten-free meals, they have that covered. Just search via the website for the meals that you can enjoy, and tuck in.
Can I Cancel Grubby Food Delivery?
Yes, you can, and they have made it pretty simple. First of all, it can be done online which is something not every brand can say - some make it a challenge. It is also possible to skip a delivery or two so you can take a break at any time.
There is no hard sell here.
Grubby Food Delivery Packaging
This might come as a little surprise for some but their packaging is 100% recyclable. It is also compostable and mostly made in the UK. 
How Much Is Grubby Food Delivery?
Delivery is free nationwide, another plus point for plant-based people. This is the fun part, but also the eco-friendly side of their business. Most of their London deliveries are made by bike. This has a smaller impact on the Earth and they also have a positive impact in other areas.
In 2020, Grubby delivered over 1,000 meals to NHS hospitals in London, nice work indeed. 
So, Is It Any Good?
We're not saying you have to follow a plant-based diet to enjoy it, but it may give the vegans of the world a little more variety. It is a well put together box of fresh, locally sourced food so there is a lot to like about it.
Also, the meals taste great, it is decent value, especially when using a voucher code. So, let's check to see what
What Is The Latest Grubby Discount Code?
Thankfully, we update these regularly. They do change them from time to time so it is always a good idea to check with this pager first before committing to a subscription (although it can be cancelled any time). We have no problem recommending the Grubby food delivery discount code, so here it is:
Similar deals to Grubby
ODDBOX
£10 off your 1st and 4th box
TRIBE
Exclusive 33% off your first order