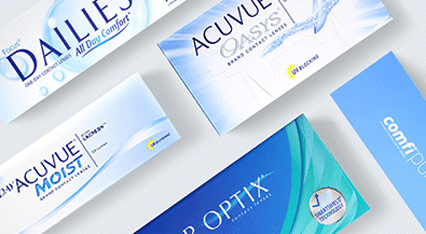 Who Are Feel Good Contacts?
This is an online contact lens brand that says it can be up to 50% cheaper than the high street. Since you are cutting out the middleman, you would expect some form of discount, but that does make it tempting as a first impression. 

They were founded in 2008 by optometrists so they know exactly what they are doing and have worked to reduce the cost of contact lenses in the UK and beyond. They say they are the UK's most popular online contact lens retailer, which seems to be reasonable since they also have a price match guarantee.
This, and the number of Feel Good Contacts promo codes available means we are intrigued. 
What Is A Feel Good Contacts Subscription?
A lot will depend on the type of subscription needed. Anyone wearing monthly contact lenses will appreciate the fact that their lenses are not only competitively priced but available in packs of 3 and 6. 
They have all the top contact lens brands available such as Acuvue, Bausch & Lomb, Air Optix and more. There are also lenses for astigmatism, toric, even yearly contact lenses. 
So, a 6 month supply can be purchased in one order. It is possible to pick up a six month supply for around £25 sometimes, depending on the brand, and available subscription. 
Buying in bulk always reduces the cost, and any Feel Good Contacts discount codes will still apply so check for the latest at the end of our review.
What Products Do They Do?
They have a wide range, as you would expect for one of the most popular retailers of contact lenses. This also stretches to a range of solutions, but also eye care products like drops and travel essentials.
Then there are glasses and sunglasses to choose from. There are top brands such as Gucci, Jimmy Choo, Calvin Klein and many others.

Feel Good Contacts Delivery
They offer next day delivery if ordering before midday which is impressive and this doesn't hike the price up by much. The contact lenses come in a neatly packaged box, and since you shouldn't wear contact lenses all day, every day, it is always a good idea to add some drops. These will also be delivered the next day.
This is their standard delivery, so they are raising the game for other online contact lens retailers. Sometimes you need those lenses as soon as possible, especially if you rely on them to get through the day.
What's Good About It?
High Street prices are a fair bit higher, making this a great option for anyone who needs a regular supply of contact lenses. Their range is also impressive, we checked for most strengths, and sizes and they have every possibility covered.
The ease of the website is great, it took us seconds to find the right brand and prescription. Speed seems to be one of their major strengths since next day delivery is also part of what they do. 
Combine all this and the various promo codes that help to reduce the cost of what is already a reasonable price, and there is a lot to like.
What's Bad About It?
Obviously with any online contact lens retailer you are not going to be able to get an eye test and need to know your subscription before purchasing.
This is why it can be a good idea to check with your local optician, book a test (which may cost a small fee), and then use the savings of buying online through Feel Good Contacts. That is the only potential negative, but it is also understandable. 
Are There Any Feel Good Contacts Discount Codes?
Yes, there are. The codes can be applied to any section of the website so it doesn't matter if the prices are already showing up to 50% off highstreet prices.
They are always being updated so be sure to check back here. We are always keeping this section up to date, so for the most recent Feel Good Contacts discount code, check below. 
Similar deals to Feel Good Contacts
EOPTICIANS
Special offers on your preferred brand with newsletter sub