Is this the best way to keep hunger at bay? It's a monthly subscription service, but there are also Bokksu discount codes available so let's see what they are and if they are worth using.
How Does It Work?
It's as simple as any other snack subscription, you click the length of time you want to receive the goods, and once a month, uniquely Japanese snacks, candies, and tea are sent to your door in a neatly packed box.
There are a good number of options for the length of time you wish to subscribe for. 

These include a monthly subscription, three, six, and twelve-month options. These subscriptions automatically renew after the selected period and the longer the subscription, the greater the discount that you can get.
More snacks subscription boxes brands similar to Bokksu
What Is Included In A Bokksu Subscription?
At first impression, the snacks are sent in a decent size box, and it is pretty packed. Every month there are 20-24 items included with a snack booklet detailing some information about what is inside. There is also allergen information.
The monthly themes help to keep things interesting. Think summer fruit-themed boxes and Bokksu birthday snacks. Some of the weird and wonderful items include cocoa potato chips, Peach and muscat grape candies, different types of crackers, Sakura Moki, Spring Gold Tea, and plenty more.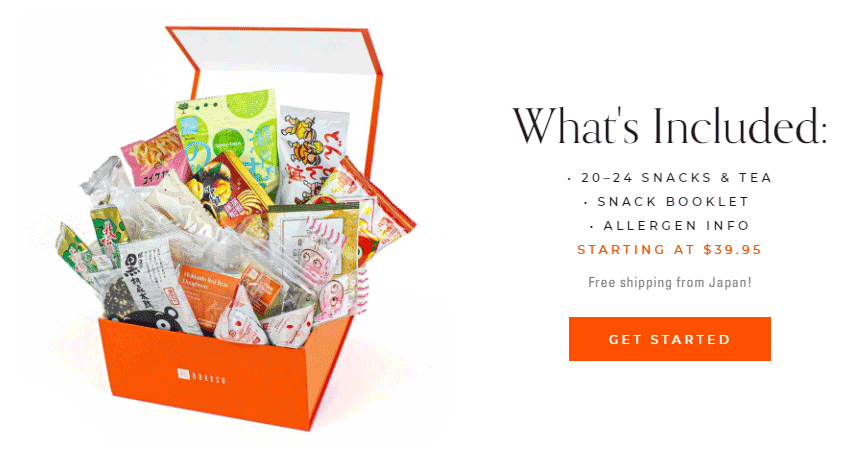 Some of the products are sourced from centuries-old family-run businesses. Tradition is rich in Japan, and anyone with a Bokksu subscription can taste for themselves.
We do like the culture guide, and anyone with a thirst for Japan and the journey that their snacks and teas take will find this particularly interesting.  
A lot of the products are available to buy separately from their market store. This means if you stumble across an item you can't get enough of, you can stock up on more. 
How Much Does Bokksu Cost?
Because they are priced in US dollars, it depends on the exchange rate for UK customers. Still, they are $39, which is approximately £30 a month. 
This is for the classic box which is the most popular. There is a smaller box called The Taster, but this doesn't come with as many goodies. 
How Much Is Bokksu Shipping?
Nothing. You do not have to pay for shipping when ordering a Bokksu UK subscription. All costs are included in the initial price of the box.
How Long Does It Take Bokksu To Arrive?
Typically the boxes take around 1-2 weeks to arrive after placing the first order. Then, it is a monthly subscription where the box should arrive around the same time. You will also get a tracking code so you can see how the box edges closer before it is at your front door.
What's Good About It?
There is plenty to like, but it is the trying new things that would otherwise never pass your lips that makes it so much fun. There is a cultural side to it that will appeal to some, but these are genuine snacks that many enjoy in Japan.
Every Bokksu subscription box is generously filled so you do feel like you are getting your money's worth. There is a genuine feeling that you are experiencing something different when biting into the different snacks and candies. 
The teas are also high-quality, as you would expect.
What's Not So Good?
There isn't a lot that is wrong with the subscription but the initial box can take a little while to find its way to the front door. That's because they are sent from Japan, so a Bokksu UK order will naturally take a little while.
However, this is how the treats manage to get from Asia to Europe so who are we to complain about a short wait? Also, shipping might take longer than UK based subscriptions, but it is free. 
Are There Any Bokksu Discount Codes?
Luckily, there are some excellent options worth taking advantage of, and these do change from time to time. This is why we always recommend checking in for the latest Bokksu promo code. 
So before clicking buy on that box of Japanese treats, check this section. 
Similar deals to Bokksu

GRAZE
1st, 5th & 10th boxes free