It is a members-only club, but with a difference. A lot of the time, products can end up being your run of the mill lip gloss or eyeliners, but it doesn't seem to be the case here. Also, the price ends up being much closer to what it costs to produce than on the high street. So, is Beauty Pie worth it? Let's find out. 
What Is Beauty Pie?
This is a beauty product subscription that is a little different from the rest. What surprises many people is that a subscription can include the likes of Beauty Pie super retinol and comes from the brain of Marcia Kilgore.
She is the woman behind Soap & Glory and Soaper Duper so she is certainly someone that knows what it takes to make leading brands and quality products. 
Beauty Pie has been going since 2017 and is considered one of the most groundbreaking beauty subscription boxes.
What Kind Of Products Are Included?
A Beauty Pie subscription means a monthly payment and access to a large selection of products. These come directly from the suppliers and include all types of beauty products from skincare and makeup to hair products.
This means the monthly payment can include a Jeju daily am/pm moisturizer, or one of the 35 products formulated to battle dry skin. There are other options, with numerous beauty products designed for sensitive skin.  
What Are The Beauty Pie Subscription Options?
The good news is that there are different subscription options to suit all budgets. It starts from as little as £5 a month, giving the user access to up to £50 worth of beauty products. 
For those who want to get more out of the service, there are £10 and £20 options, giving £100 and £200 worth of products to choose from. A lot of people choose to make the most of the yearly subscription which increases the savings whilst still providing access to plenty of beauty products.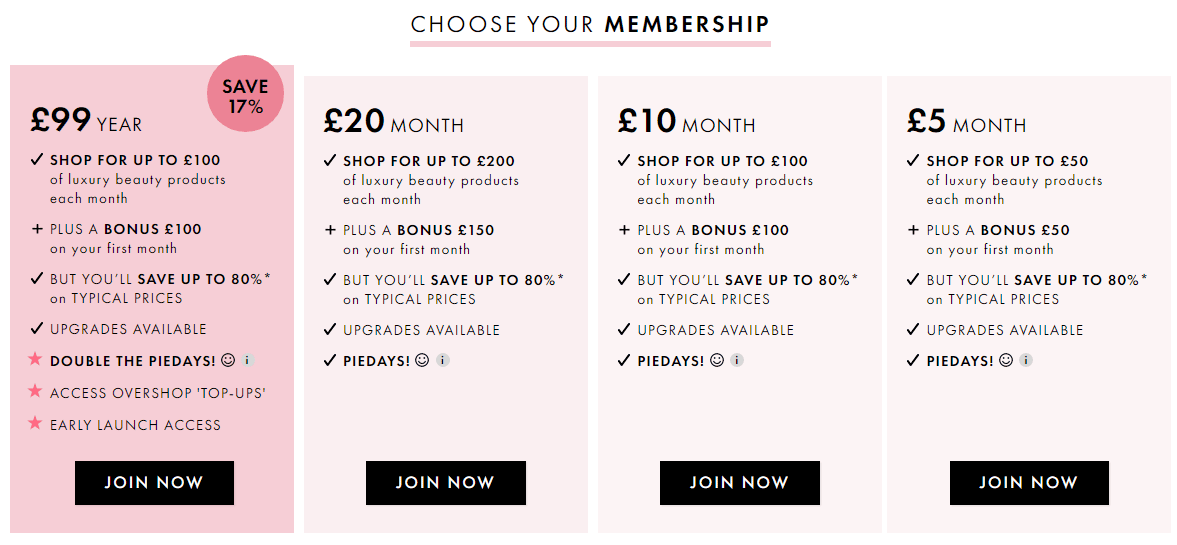 Anyone who doesn't fill their entire budget for the month will be pleased to know that the spending limit rolls over to the next month. 
How Does A Beauty Pie Subscription Work?
With such massive discounts you would be forgiven for skiing if it was too good to be true, but there is a reason Beauty Pie can offer such discounts. They've taken all the regular mark-ups away so you won't find loads of celebrity endorsements or campaigns that need to be recouped somehow.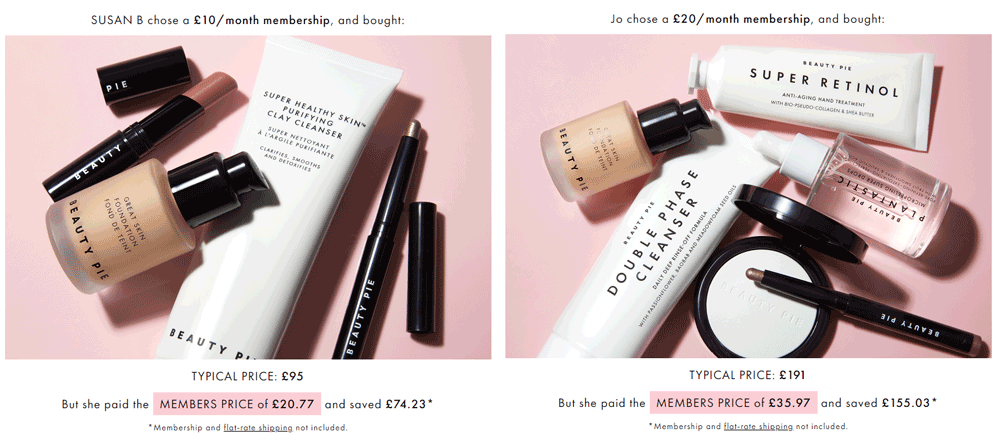 The packaging is basic, but you don't need anything but the product inside. Also, they include a transparent breakdown of all the costs for every product. That means if a product is £15 because of fulfilment and the cost to make it, then that is it. There is no middleman or retailer markup to include. 
The products are still high quality, often imported but without the added extras everyone could do without. 
Are There Any Beauty Pie Discount Codes?
The good news is there are always new codes being updated. This means you can save money on a service that is already offering massive discounts on what you would pay in the high street for an equivalent product.
We always keep our Beauty Pie codes updated so be sure to check here before committing to a subscription. 
What Are The Best Beauty Pie Products?
Although this is very much a matter of opinion, there are just some products that everyone agrees are just fab. The Beauty Pie Super Retinol Moisturizer is one of the most popular, and it is easy to see why. It has a potent combination of Vitamin A ferulic and hyaluronic acid that is kind on the skin but smoothes on all types. The discount is hard to believe since similar products often cost over 5x as much.
Other popular options include Japan Fusion Transforming Cleanser and the Deluxe Moisture Body Creme, and Beauty Pie Foundation. 
So, Is Beauty Pie A Popular Subscription Box?
It certainly is! With tens of thousands of members already enjoying the substantial discounts available, this is only going to increase in popularity as well. 
We think it is one of the best value options out there. So, anyone looking for a quality beauty subscription box may find the discount and range of products to be too tempting to resist.