Appleyard Flowers subscriptions are among the most popular in the UK, but what is behind their success, and is it worth signing up to? Let's take a look, and check for the latest Appleyard Flowers discount codes.
What Do Appleyard Flowers Offer?
Besides same-day delivery in London, if ordered before 12 pm, Appleyard Flowers use British flair to arrange their bouquets. It is their subscription service that sets them apart, and with various options for the type of flowers, and length of subscription, it is tailored around the customer's needs.

The longer the subscription, the greater the savings, so this is another benefit of using Appleyard Flowers. They use seasonal flowers that last longer and the set-up is one of the fastest around. The subscriptions are available for ongoing monthly payments, as well as three, six, and twelve-month options. 
They are delivered in a hydration box to keep them fresh and tied with a satin ribbon to give it a luxe feel. The arrangement is wrapped with flair so every month the delivery has a special feel to it. 
Flowers With A Guarantee
Not every flower subscription service delivers with a guarantee, so it is good to see Appleyard Flowers have added one to theirs. If the flowers do not live up to expectations, the order is wrong in some way, or they do not last seven days it is possible to redeem their 100% happiness guarantee.
This can mean contacting the Appleyard Flowers customer service team, but they are known for being responsive. 
How Much Is Delivery For An Appleyard Flower Subscription?
Delivery for the subscription service is free. This is for any length of subscription as stated on their website. They also do next day delivery in most places if the order is received before 6:30 pm.
This is the same for any of their services, whether you are using an Appleyard Flower voucher code or not. 
Gifting An Appleyard Flowers Subscription
If there is a significant other or family member or friend that would appreciate monthly flowers from a reputable florist, Appleyard Flowers has a lot to offer. There are different options, including a birthday, seasonal, romance, or home subscription. 
This makes it easy to tailor monthly flowers to the occasion and the flowers even follow the theme with soft, romantic carnations and Athena roses in the romance subscription, and vibrant bouquet with lush foliage in the birthday bouquets.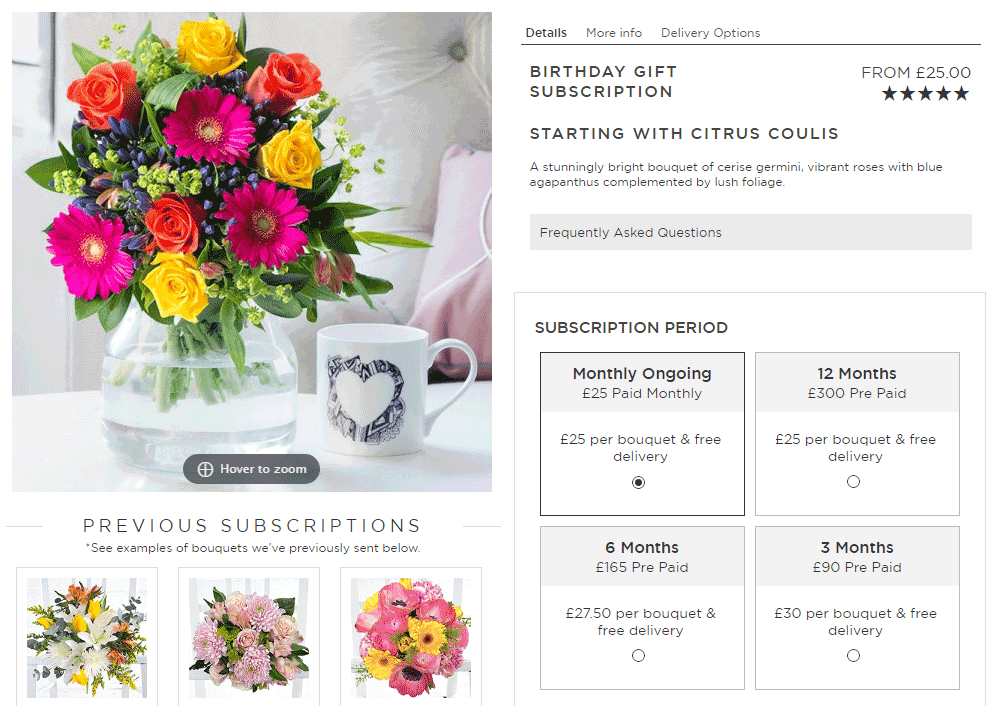 Appleyard Flowers Discount Codes
A lot of people will sing their praises based on the quality of the flowers, but also the offers they always run. This is why it is best to check here for the Appleyard Flowers discount options before making a purchase.
We always keep this section up to date so check-in for the best deal for an Appleyard London order. 
Appleyard Flowers Vs Interflora
These are two of the UK's biggest flower online services so it is hardly surprising that they are frequently compared. Appleyard Flowers tend to get the edge in most areas despite not having the same brand recognition.
This is because they have a surprisingly wide variety of products, as well as offering more discount codes. To add to this, shipping is free and most customers find that the arrangement they think they are getting online is accurate. 
They both have excellent coverage within the UK and it is possible although only Interflora offers international shipping. Still, we like the variety and offers associated with Appleyard Flowers, so for us, they are the best flower delivery service, especially when looking for a subscription. 
Conclusion
Appleyard Flowers are one of the best UK flower subscription services in terms of reputation. This makes it no surprise to see that they have a comparatively large variety of flowers, quality bouquets, unique services, and plenty of customisable options.
Their discount codes are also some of the best around, so combining this with free and fast delivery, we have no problem recommending their services. 
Similar deals to Appleyard Flowers